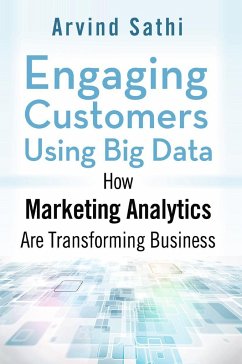 The book makes three major propositions:
1. Big Data brings all the data to the table leading to a lot more detailed analysis and discovery. We can get a lot more understanding about consumer behavior.
2. Automation and Social Media drives a lot more influence on the decisions. We can converse with the customers as they make decisions and influence their decision-making using a series of sophisticated marketing tools.
3. The market leaders will integrate their resources and investment to optimize across a number of instruments in ways we have never seen before.

These changes have tremendous impact on our marketing processes and capabilities. In the first half of the book, using a series of examples from big data pioneers, such as PF Chang's, Best Buy, Google, and IBM, Sathi describes how each marketing function is undergoing fundamental changes: how personalized advertising is delivered using online channels where the marketers identify the specific customer and tailor their messaging based on customer behavior, context, and intention; how customer behaviors are collected from a variety of sources across many industries and examined to identify micro segments; and how online and physical stores collaborate to provide a unified shopping experience and deliver product information. The second half of the book examines the tools and techniques for marketing science in support of these capabilities including statistical techniques, qualitative reasoning, and real-time pattern detection, to name a few. Based on these changes, the book prescribes the changes needed to update our skill and tools for Marketing Analytics.


Produktdetails
Artikelnr. des Verlages: 978-1-137-38618-2
2014
Seitenzahl: 215
Erscheinungstermin: 30. Juli 2014
Englisch
Abmessung: 231mm x 155mm x 25mm
Gewicht: 402g
ISBN-13: 9781137386182
ISBN-10: 1137386185
Artikelnr.: 40558885
Foreword PART I: INTRODUCTION1. Why this Book? 2. Data Sources 3. Audience 4. Book Overview PART II: DISRUPTIVE FORCES5. Introduction 6. Social Media and the Empowered Customer 7. Emergence of Big Data 8. Advanced Analytics 9. Public and Private Clouds and the Data Bazaar 10. Summary PART III: PIONEERS11. Introduction 12. Consumer Research 13. Advertising 14. Promotions 15. Shopper Tracking 16. Order Tracking 17. Summary PART IV: PROPOSITION 1 - BIG DATA MEANS A LOT MORE OBSERVATIONS18. Introduction 19. Data 20. Analytics 21. Change with Big Data 22. Summary PART V: PROPOSITION 2 - AUTOMATION AND SOCIAL MEDIA23. Listening 24. Conversations 25. Participation in Games 26. Endorsements 27. Ambassadors and Advisors 28. Summary PART VI: PROPOSITION 3 - PERSONALIZED MARKETING29. Introduction 30. Micro Segmentation 31. Directed Communication 32. Privacy Management 33. Single Customer View 34. Cross Channel Management 35. Organizational Implications 36. Summary PART VII: TECHNOLOGICAL ENABLERS37. Introduction 38. Unstructured Data Analysis 39. Pattern Discovery 40. Experiment Design 41. Customer Identity Resolution 42. Real-time Bidding 43. Summary PART VIII: SKILLS REQUIREMENTS - DATA SCIENTISTS AND DATA ENGINEERS44. Introduction 45. Data Warehouse and Business Intelligence Skills 46. Data Scientist 47. Data Engineer 48. Analytics as a Service 49. Evolution vs. Revolution 50. Summary PART IX: WHERE ARE WE HEADED? 51. Introduction 52. What did we cover? 53. What is the impact? 54. How can we get ready for the changes? 55. Conclusions