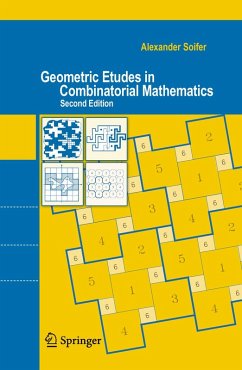 Andere Kunden interessierten sich
auch
für
Geometric Etudes in Combinatorial Mathematics
is not only educational, it is inspirational. This distinguished mathematician captivates the young readers, propelling them to search for solutions of life's problems-problems that previously seemed hopeless.
Review from the first edition:
The etudes presented here are not simply those of Czerny, but are better compared to the etudes of Chopin, not only technically demanding and addressed to a variety of specific skills, but at the same time possessing an exceptional beauty that characterizes the best of art...Keep this book at hand as you plan your next problem solving seminar.
-The American Mathematical Monthly
---
Dieser Download kann aus rechtlichen Gründen nur mit Rechnungsadresse in A, B, BG, CY, CZ, D, DK, EW, E, FIN, F, GR, HR, H, IRL, I, LT, L, LR, M, NL, PL, P, R, S, SLO, SK ausgeliefert werden.
Produktdetails
Verlag: Springer-Verlag GmbH
Seitenzahl: 264
Erscheinungstermin: 3. Juni 2010
Englisch
ISBN-13: 9780387754703
Artikelnr.: 43728247
-Forewords to the Second Edition.-Forewords to the First Edition.-Preface to the Second Edition.-Preface to the First Edition.-Part I. Original Etudes.-1. Tiling a Checker Rectangle.- 1.1 Introduction.-1.2 Tiling Rectangles by Trominoes.- 1.3 Tetrominoes and 'Color' Reasoning.-1.4Tiling by Linear Polyominoes.- 1.5 Polyominoes and Rotational.-1.6 Symmetries.-1.7 Tiling on Other Surfaces.- 2. Proofs of Existence.- 2.1 The Pigeonhole Principle in Geometry.- 2.2 An Infinite Flock of Pigeons.-3. A Word About Graphs.-3.1 Combinatorics of Acquaintance, orIntroduction to Graph Theory. -3.2 More About Graphs.-3.3 Planarity.-3.4 The Intersection Index and the Jordan Curve Theorem.-4. Ideas of Combinatorial Geometry.-4.1 What are Convex Figures?.-4.2 Decomposition of Figures Into Parts of Smaller Diameters.-4.3 Figures of Constant Width.-4.4 Solution of the Borsuk Problem for Figures in the Plane.-4.5 Illumination of Convex Figures.-4.6 Theorems of Helly and Szökefalvi-Nagy.-Part II. New Landscape or the View 18 Years Later.-5. Mitya Karabash and a Tiling Conjecture.-6. Norton Starr's 3-Dimensional Tromino Tiling.-7. Large Progress in Small Ramsey Numbers.-8. The Borsuk Problem Conquered.-9. Etude on the Chromatic Number of the Plane.-10. Farewell to the Reader.-References.-Notation.-Index.
Review from the second edition:

Characteristically, each of the topics included in the book require very little in the way of preparation and evolve fast into open questions and research level conjectures...This is a delightful book that will be welcomed enthusiastically by students and organizers of mathematical circles and mathematics fans. -- Alexander Bogomolny

Review from the first edition:

Boltyanski and Soifer have titled their monograph aptly, inviting talented students to develop their technique and understanding by grappling with a challenging array of elegant combinatorial problems having a distinct geometric tone. The etudes presented here are not simply thoese of Czerny, but are better compared to the etudes of Chopin, not only technically demanding and addressed to a variety of specific skills, but at the same time possessing an exceptional beauty that characterizes the best of art...Keep this book at hand as you plan your next problem solving seminar. -- The American Mathematical Monthly
From the book reviews:

"This book itself has also a good chance to occupy a permanent place in the mathematical literature. Among its virtues is the lively and fluent style, in which it introduces and explains the problems. ... In summing up, we warmly recommend this book to any interested reader: take and read, and dip into the exercises and the problems ... ." (Gábor Gévay, Acta Scientiarum Mathematicarum (Szeged), Vol. 77 (3-4), 2011)

Characteristically, each of the topics included in the book require very little in the way of preparation and evolve fast into open questions and research level conjectures...This is a delightful book that will be welcomed enthusiastically by students and organizers of mathematical circles and mathematics fans.---Alexander Bogomolny

Boltyanski and Soifer have titled their monograph aptly, inviting talented students to develop their technique and understanding by grappling with a challenging array of elegant combinatorial problems having a distinct geometric tone. The etudes presented here are not simply thoese of Czerny, but are better compared to the etudes of Chopin, not only technically demanding and addressed to a variety of specific skills, but at the same time possessing an exceptional beauty that characterizes the best of art...Keep this book at hand as you plan your next problem solving seminar. ---The American Mathematical Monthly


nct geometric tone. The etudes presented here are not simply thoese of Czerny, but are better compared to the etudes of Chopin, not only technically demanding and addressed to a variety of specific skills, but at the same time possessing an exceptional beauty that characterizes the best of art...Keep this book at hand as you plan your next problem solving seminar. ---The American Mathematical Monthly