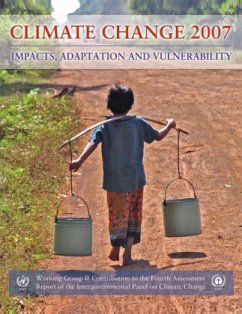 Produktdetails
Climate Change 2007
Verlag: Cambridge University Press
Seitenzahl: 976
Erscheinungstermin: Februar 2008
Englisch
Abmessung: 279mm x 216mm x 46mm
Gewicht: 2680g
ISBN-13: 9780521705974
ISBN-10: 0521705975
Artikelnr.: 22952997
Foreword; Preface; Introduction; Summary for policymakers; Technical summary; 1. Assessment of observed changes and responses in natural and managed systems; 2. New assessment methodologies and the characterisation of future conditions; 3. Fresh water resources and their management; 4. Ecosystems, their properties, goods and services; 5. Food, fibre and forest products; 6. Coastal systems and low-lying areas; 7. Industry, settlement and society; 8. Human health; 9. Africa; 10. Asia; 11. Australia and New Zealand; 12. Europe; 13. Latin America; 14. North America; 15. Polar regions (Arctic and Antarctic); 16. Small islands; 17. Assessment of adaptation practices, options, constraints and capacity; 18. Inter-relationships between adaptation and mitigation; 19. Assessing key vulnerabilities and the risk from climate change; 20. Perspectives on climate change and sustainability - 811 Cross-chapter case studies; Appendix I. Glossary; Appendix II. Contributors to the IPCC WGII Fourth Assessment Report; Appendix III. Reviewers of the IPCC WGII Fourth Assessment Report; Appendix IV. Acronyms and abbreviations; Appendix V. Index and database of regional content; Index; CD-ROM.