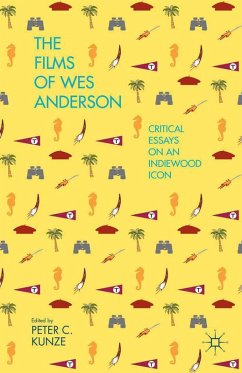 Wes Anderson's films can be divisive, but he is widely recognized as the inspiration for several recent trends in indie films. Using both practical and theoretical lenses, the contributors address and explain the recurring stylistic techniques, motifs, and themes that dominate Anderson's films and have had such an impact on current filmmaking.
Produktdetails
Artikelnr. des Verlages: .978-1-349-48692-2
1st ed. 2014
Seitenzahl: 236
Erscheinungstermin: 1. Mai 2014
Englisch
Abmessung: 216mm x 140mm x 12mm
Gewicht: 306g
ISBN-13: 9781349486922
ISBN-10: 1349486922
Artikelnr.: 44732564
Introduction: The Wonderful Worlds of Wes Anderson; Peter C. Kunze PART I 1. The Short Films of Wes Anderson; Nicole Richter 2. Cast of Characters: Wes Anderson and Pure Cinematic Characterization; Kim Wilkins 3. The Jellyfish and the Moonlight: Imagining the Family in Wes Anderson's Films; Steven Rybin 4. 'Max Fischer Presents': Wes Anderson and the Theatricality of Mourning; Rachel Joseph 5. 'Who's to Say?': The Role of Pets in Wes Anderson's Films; C. Ryan Knight 6. 'American Empirical' Time and Space: The (In)Visibility of Popular Culture in the Films of Wes Anderson; Jason Davids Scott PART II 7. From the Mixed-Up Films of Mr. Wesley W. Anderson: Children's Literature as Intertexts; Peter C. Kunze 8. A Shared Approach to Familial Dysfunction and Sound Design: Wes Anderson's Influence on the Films of Noah Baumbach; Jennifer O'Meara 9. Bill Murray and Wes Anderson, or the Curmudgeon as Muse; Colleen Kennedy-Karpat 10. Life on Mars or Life on the Sea: Seu Jorge, David Bowie, and the Musical World in Wes Anderson's The Life Aquatic with Steve Zissou; Lara Hrycaj PART III 11. The Andersonian, the Quirky, and 'Innocence'; James MacDowell 12. 'I Always Wanted to be a Tenenbaum': Class Mobility as Neoliberal Fantasy in Wes Anderson's The Royal Tenenbaums; Jen Hedler Phillis 13. Objects / Desire / Oedipus: Wes Anderson as Late Capitalist Auteur; Joshua Gooch 14. Systems Thinking in The Life Aquatic with Steve Zissou and Moonrise Kingdom; Laura Shackelford
'Kunze's collection offers a broad array of critical responses to Wes Anderson's films - from their quirky sensibility, their portrayal of idiosyncratic characters, their relation to neoliberal fantasies, and the importance of music to Anderson's collaboration with Noah Baumbach. The Films of Wes Andserson is invaluable for bringing us much closer to understanding Anderson's significance as an American Indiewood filmmaker." - Warren Buckland, Reader in Film Studies, Oxford Brookes University, UK
"Spanning a diverse range of perspectives on a figure who is now undoubtedly recognized as the icon of the indie era, this collection valuably complicates and challenges the generalized notions of Wes Anderson that characterize popular opinion. It is essential reading for anyone seeking to understand the work of this director as more than merely 'whimsical.'" - Claire Perkins, Film and Television Studies, Monash University, USA, and author of American Smart Cinema
"Appropriately, the essays collected in this volume provide an array of perspectives on a filmmaker whose work consistently fights against isolation. It is fitting indeed that the first serious book-length exploration of Anderson's work is a truly collaborative effort. Including fourteen essays from fourteen distinct points of view, the reader comes away from Kunze's collection with a sense of the filmmaker and his unusually inclusive worldview, as well as a sense of respect for the power of a critical
conversation (as opposed to the monologue)." - Devin Orgeron, Associate Professor, Director of Film Studies, North Carolina State University, USA, and author of "La Camera-Crayola: Authorship Comes of Age in the Cinema of Wes Anderson"