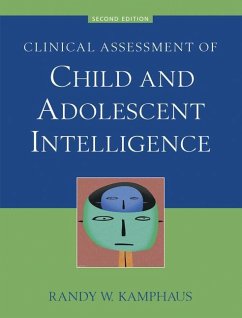 Andere Kunden interessierten sich
auch
für


In addition, Clinical Assessment of Child and Adolescent Intelligence:

- Stresses the importance of the interpretive process over the value of specific tests

- Fosters a deeper understanding of the intelligence construct

- Emphasizes learning by example, using valuable case studies and vignettes designed to provide students with concrete models to emulate

This edition covers all facets of intelligence testing, including detailed explanations of test interpretation, theory, research, and the full-range of testing options for preschoolers through adult clients. New chapters have been introduced on neuropsychological approaches, adolescent and adult intelligence, including coverage of WAIS-III and KAIT, and achievement and intelligence screeners have been added. And although designed primarily as a text for beginning graduate students, the book is also useful as a "refresher" for clinicians who are looking for updated assessment information.


Produktdetails
Artikelnr. des Verlages: 978-0-387-26299-4
2. Aufl.
Seitenzahl: 692
Erscheinungstermin: 16. August 2005
Englisch
Abmessung: 254mm x 178mm x 36mm
Gewicht: 1088g
ISBN-13: 9780387262994
ISBN-10: 0387262997
Artikelnr.: 15083403
History.- Theory.- Research Findings.- The Assessment Process.- Pscyhometric Principles and Issues.- Culture and Bias.- Practice Standards and Ethics.- The Wechsler Intelligence Scale for Children Third Edition (WISC-III).- Standford-Binet Fourth Edition.- Kaufman Assessment Battery for Children (K-ABC).- Assessment of Adolescent and Adult Intelligence.- Woodcock-Johnson Tests of Cognitive Ability (W-J).- Differential Ability Scales (DAS).- Achievement and Intelligence Screeners.- Infant and Preschool Methods.- Nonverbal Tests.- Modern Interpretation Methods.- Report Writing and Oral Reporting.- Neuropsychological Assessment and Intellectual Function in Children.- Mental Retardation and Learning Disabilities.- Appendix A.