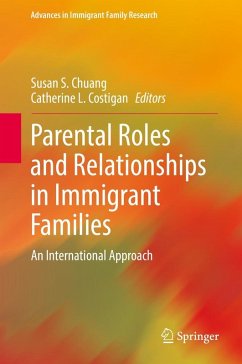 Andere Kunden interessierten sich
auch
für
This timely reference:
. explores immigration and families from a global, multidisciplinary perspective;
. focuses on immigrant children and youth in the family context;
. challenges long-held assumptions about parenting and immigrant families;
. bridges the knowledge gap between immigrant and non-immigrant family studies;
. describes innovative methodologies for studying immigrant family relationships; and
. establishes the relevance of these data to the wider family literature.
Parental Roles and Relationships in Immigrant Families is not only useful to researchers and to family therapists and social workers attending to immigrant families, but also highly informative for persons interested in shaping immigration policy at the local, national, and global levels.
---
Dieser Download kann aus rechtlichen Gründen nur mit Rechnungsadresse in A, B, BG, CY, CZ, D, DK, EW, E, FIN, F, GB, GR, HR, H, IRL, I, LT, L, LR, M, NL, PL, P, R, S, SLO, SK ausgeliefert werden.
Produktdetails
Verlag: Springer-Verlag GmbH
Erscheinungstermin: 10.02.2018
Englisch
ISBN-13: 9783319713991
Artikelnr.: 52940409
Current Perspectives on Family Dynamics and Relationships: The Intersection of Culture and Immigration.- Where Are You Daddy? An Exploration of Father Involvement in Chinese Families in Canada.- The Complexities of Parental Control among Chinese American Mothers: The Role of Acculturation.- Dominican Parenting and Early Childhood Functioning: A Comparison Study of Immigrant Families in the US and Families in their Country of Origin.- Parental Socialization of Emotion and Child Functioning among Indian American Families: Consideration of Cultural Variables and Different Modes of Socialization.- Specialization, Coordination, and Developmental Sequelae of Mother-Infant Person- and Object-Directed Interactions in U.S. American Immigrant Families.- How Do Children Learn Mathematics?: Chinese and Latino Immigrant Perspectives.- Acculturation-Related Stressors and Individual Adjustment in Asian American Families.- Parenting among Mainland Chinese Immigrant Mothers in Hong Kong.- Parenting Stress and Depressive Symptoms of Immigrant Families in Italy.- Comparing the Acculturation Goals of Parents and Adolescents in Chinese Canadian Families.- Family Solidarity: The Generation Gap in Immigrants in the Netherlands.- Parenting Immigrant Parents: Role Reversal, Language Brokering, and Psychological Adjustment among Immigrant Adolescents in Israel.- Parenting in Global Perspective: Progress and Prospects.