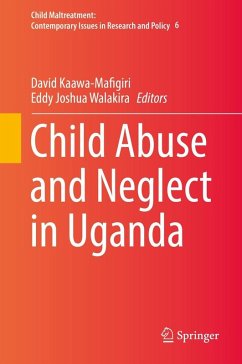 This book provides a unique perspective on addressing issues of various forms of violence against children from scholars within their own country. Bringing together cross-disciplinary expertise, this volume addresses a vast range of topics related to child abuse and neglect in Uganda.
Exploring areas from the protection of street children to cultural proverbs related to child maltreatment, this volume examines issues both specific to the Ugandan contexts as well as broadly experienced in child maltreatment work in non-Euro-American countries. This book surveys the breadth of the child protection field, covering issues of children's universal rights, challenges of protection and ethical quandaries in researching and addressing maltreatment.
---
Dieser Download kann aus rechtlichen Gründen nur mit Rechnungsadresse in A, B, BG, CY, CZ, D, DK, EW, E, FIN, F, GB, GR, HR, H, IRL, I, LT, L, LR, M, NL, PL, P, R, S, SLO, SK ausgeliefert werden.
Produktdetails
Verlag: Springer-Verlag GmbH
Erscheinungstermin: 20.01.2017
Englisch
ISBN-13: 9783319485355
Artikelnr.: 53031632
Foreword; Lola Adedokun.- Chapter 1. Introduction; David Kaawa-Mafigiri and Eddy J. Walakira.- Part I. Research and Theory.- Chapter 2. Building Research Evidence and Collaborative Partnerships in Uganda to Prevent and Protect Children Against Violence: Concerns and Priorities for Action; Eddy J. Walakira, Daniel Kikulwe, Ronald Luwangula, David Kaawa-Mafigiri and Badru Bukenya.- Chapter 3. "Situated" Understandings of Child Abuse and Maltreatment in Uganda; Gloria Kimuli Seruwagi.- Chapter 4. Proverbs and Child Protection: A Case Study of Three Bantu Languages: Luganda, Lusoga and Lunyankole; Paul Bukuluki, Aloysious Nyombi, Jude T. Rwemisisi, Ronald Luwangula, Ronard Mukuye, David Kaawa-Mafigiri and Ismael Ddumba-Nyanzi.- Chapter 5. Child Maltreatment in the Ugandan Print Media: A Discourse Analysis; Denis Muhangi.- Part II. Community and Child Protection.- Chapter 6. Children and Domestic Water Collection in Uganda: Exploring Policy and Intervention Options that Promote Child Protection; Firminus Mugumya, Richard B. Asaba, Innocent R. Kamya and Narathius Asingwire.- Chapter 7. Matriarchy in Patriarchal Societies: Burden of Care of Maternal Relatives and Vulnerability of Orphans from HIV Affected Households in Luwero District Uganda; Paul Bukuluki, David Kaawa-Mafigiri and Jude T. Rwemisisi.- Part III. Culturally Specific Forms of Child Maltreatment.- Chapter 8. The Female Genital Mutilation Economy and the Rights of the Girl Child to Education and Reproductive Health; Eric Awich Ochen, Laban Musinguzi, Esther Nanfuka Kalule, Eugene Gerald Ssemakula, Rebecca Kukundakwe, Chris C. Opesen and Paul Bukuluki.- Chapter 9. Dilemmas of Child "Sacrifice" and Mutilation in Uganda; Paul Bukuluki, Simon Fellows and Ronald Luwangula.- Chapter 10. Perpetrators or Protectors Against Violence? Police Officers in Uganda and Their Encounters with Children in Street Situations; Innocent R. Kamya and Eddy J. Walakira.- Part IV. Child Rights and Justice for Children.- Chapter 11. Negotiating Restorative and Retributive Justice in Access to Justice for Survivors of SGBV in Post-Conflict Northern Uganda; Paul Bukuluki, Ismael Ddumba-Nyanzi, John David Kisuule, Berit Schei and Johanne Sundby.- Chapter 12. Human Rights Abuse and Deprivation of Childhood: A Case of Girl Mothers in Northern Uganda; Sarah Kamya.- Part V. Responses to Child Maltreatment.- Chapter 13. System Strengthening to Improve Alternative Care for Neglected and Child Survivors of Violence: Critical Areas for Consideration; Eddy J. Walakira, Daniel Kikulwe, Ronald Luwangula, Mark Riley, Badru Bukenya and, Ismael Ddumba-Nyanzi and David Kaawa-Mafigiri.- Chapter 14. Does Child Rights Legislation and Policies Effectively Protect Children from Maltreatment? Evidence from a Nationwide Sectoral In-Depth Analysis; Eric Awich Ochen, John Ssengendo and Elinor W. Chemonges.- Chapter 15. Education for All: Reflections on the Schooling Status for the Girl Child in Uganda; Daniel Kikulwe, Eddy J.Walakira, Lyne Ssebikindu, Joy Ssebikindu, Denis Muhangi and Fred Matovu.- Chapter 16. Preparing Older Street Children for Successful Adult Life in Uganda: The Need to Prioritize Tailor-Made Skills Training Program in Uganda; Ronald Luwangula.
Es gelten unsere Allgemeinen Geschäftsbedingungen: www.buecher.de/agb
Impressum
www.buecher.de ist ein Shop der
buecher.de GmbH & Co. KG
Bürgermeister-Wegele-Str. 12,
86167 Augsburg
Amtsgericht Augsburg HRA 13309
Persönlich haftender Gesellschafter: buecher.de Verwaltungs GmbH
Amtsgericht Augsburg HRB 16890

Vertretungsberechtigte:
Günter Hilger, Geschäftsführer
Clemens Todd, Geschäftsführer

Sitz der Gesellschaft:Augsburg
Ust-IdNr. DE 204210010
---
Bitte wählen Sie Ihr Anliegen aus.