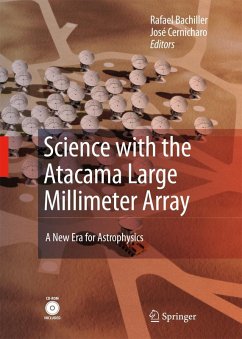 Andere Kunden interessierten sich
auch
für
---
Dieser Download kann aus rechtlichen Gründen nur mit Rechnungsadresse in A, B, BG, CY, CZ, D, DK, EW, E, FIN, F, GB, GR, HR, H, IRL, I, LT, L, LR, M, NL, PL, P, R, S, SLO, SK ausgeliefert werden.
Produktdetails
Verlag: Springer-Verlag GmbH
Erscheinungstermin: 03.04.2008
Englisch
ISBN-13: 9781402069352
Artikelnr.: 37352634
The Atacama Large Millimeter/Submillimeter Array: overview & status.- ALMA capabilities for observations of spectral line emission.- ALMA capabilities for observations of continuum emission.- Star and planet-formation with ALMA: an overview.- High-mass star forming regions: An ALMA view.- Early stages of star formation.- Chemistry in low-mass star forming regions.- Molecular outflows observed with ALMA.- Unveiling the chemistry of hot protostellar cores with ALMA.- High resolution submillimeter observations of massive protostars.- High-resolution mm interferometry and the search for massive protostellar disks: the case of Cep-A HW2.- The Class 0 source Barnard 1c.- APEX and ATCA observations of the southern hot core G327.3-0.6 and its environs.- The physical conditions in the BHR71 outflows.- Interstellar deuteroammonia.- Massive star formation in the southern Milky Way.- SMA observations of the magnetic fields around a low-mass protostellar system.- ASTE observations of the massive-star forming region Sgr B2: a giant impact scenario.- A new view of proto-planetary disks with ALMA.- Observational signature of planet formation: The ALMA view.- Detecting protoplanets with ALMA.- The study of young substellar objects with ALMA.- A submillimeter view of protoplanetary dust disks.- Studies of dense cores with ALMA.- Chemistry in the ISM: the ALMA (r)evolution.- High angular resolution imaging of the circumstellar material around intermediate mass (IM) stars.- Polarization measurements of molecular lines.- Molecular clouds and star formation in the Magellanic Clouds and the Milky Way.- Complex organic molecules in an early stage of protostellar evolution.- Revealing the "fingerprints" of the magnetic precursor of C-shocks.- A new evolutionary scenario of intermediate-mass star-formation revealed by multi-wavelength observations of OMC-2/3.- Scientific role of ACA for low-mass star-formation study.- Planetary atmospheres with ALMA.- Cometary science with ALMA.- Observations of asteroids with ALMA.- ALMA as the ideal probe of the solar chromosphere.- The study of evolved stars with ALMA.- Molecular lines from protoplanetary nebulae: observations with ALMA.- Planetary nebulae and ALMA.- Chemistry in the circumstellar medium.- Understanding the chemical complexity in Circumstellar Envelopes of C-Rich AGB stars: the case of IRC +10216.- New Plateau de Bure observations of M?1-92; unveiling the core.- A massive, dusty toroid with large grains in the pre-planetary nebula IRAS22036+5306.- Gas dynamics and structure of galaxies.- Investigations of star formation in galaxies using ALMA.- Probing the feeding and feedback of activity near and far.- Chemical complexity in galaxies.- Chemistry in luminous AGN and starburst galaxies.- Dense gas in normal and active galaxies.- Spectroscopic surveys of cosmic evolution.- Observations of molecular clouds in nearby galaxies with ALMA.- Luminous infrared galaxies with the submillimeter array: probing the extremes of star formation.- The Galactic Center as nearby extragalactic chemical laboratory.- Studying the first galaxies with ALMA.- Detecting the most distant (z7) objects with ALMA.- Redshift distribution of the submillimeter extragalactic background light.- Molecular absorptions in high-z objects.- Molecular signature of star formation at high redshifts.- Dense molecular gas in a sample of LIRGs and ULIRGs: The low-redshift connection to the huge high-redshift starbursts and AGNs.