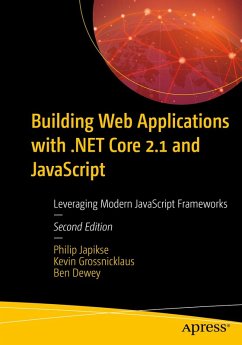 Andere Kunden interessierten sich
auch
für
You will start by building a data access layer using Entity Framework Core, a RESTful service using ASP.NET Core, and then you will build a web application following the MVC pattern, also using ASP.NET Core. The resulting application is an example e-commerce site using the most appropriate capabilities in .NET Core for building a line of business applications.
The second half of Building Web Applications with .NET Core 2.1 and JavaScript is dedicated to teaching you how to develop applications on the client with JavaScript, BootStrap, and related tooling such as TypeScript, WebPack, NPM, and more. Each JavaScript framework will build the same UI as the ASP.NET Core web application from the first half of the book, leveraging the same ASP.NET Core RESTful service and Entity Framework Core data access layer. Building the same UI in the different JavaScript frameworks provides the context and knowledge to reasonably compare and contrast the tools.
What You Will Learn
Ramp up quickly on Entity Framework Core and ASP.NET Core
Use TypeScript to deliver better JavaScript
Manage your JavaScript build process
Know how to build UIs with ASP.NET Core MVC, Angular, and React to make better decisions on which technologies to adopt in your projects
Conduct an apples-to-apples comparison of ASP.NET Core, Angular, and React
Who This Book Is For
.NET architects, consultants, and developers who want to modernize their skill set. Some understanding of JavaScript and the Web is useful.
---
Dieser Download kann aus rechtlichen Gründen nur mit Rechnungsadresse in A, B, BG, CY, CZ, D, DK, EW, E, FIN, F, GR, HR, H, IRL, I, LT, L, LR, M, NL, PL, P, R, S, SLO, SK ausgeliefert werden.
Produktdetails
Verlag: Springer-Verlag GmbH
Seitenzahl: 615
Erscheinungstermin: 13. Dezember 2019
Englisch
ISBN-13: 9781484253526
Artikelnr.: 58434214
Es gelten unsere Allgemeinen Geschäftsbedingungen: www.buecher.de/agb
Impressum
www.buecher.de ist ein Shop der
buecher.de GmbH & Co. KG
Bürgermeister-Wegele-Str. 12,
86167 Augsburg
Amtsgericht Augsburg HRA 13309
Persönlich haftender Gesellschafter: buecher.de Verwaltungs GmbH
Amtsgericht Augsburg HRB 16890

Vertretungsberechtigte:
Günter Hilger, Geschäftsführer
Clemens Todd, Geschäftsführer

Sitz der Gesellschaft:Augsburg
Ust-IdNr. DE 204210010
---
Bitte wählen Sie Ihr Anliegen aus.