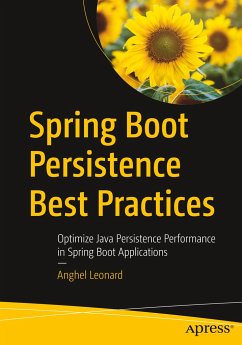 Andere Kunden interessierten sich
auch
für
Persistence is an important set of techniques and technologies for accessing and using data, and this book demonstrates that data is mobile regardless of specific applications and contexts. In Java development, persistence is a key factor in enterprise, ecommerce, cloud and other transaction-oriented applications.
After reading and using this book, you'll have the fundamentals to apply these persistence solutions into your own mission-critical enterprise Java applications that you build using Spring.
What You Will Learn
Shape *-to-many associations for best performances
Effectively exploit Spring Projections (DTO)
Learn best practices for batching inserts, updates and deletes
Effectively fetch parent and association in a single SELECT
Learn how to inspect Persistent Context content
Dissect pagination techniques (offset and keyset)
Handle queries, locking, schemas, Hibernate types, and more
Who This Book Is For
Any Spring and Spring Boot developer that wants to squeeze the persistence layer performances.
Produktdetails
Verlag: Springer, Berlin
Artikelnr. des Verlages: 978-1-4842-5625-1
1st ed.
Seitenzahl: 1060
Erscheinungstermin: 30. April 2020
Englisch
Abmessung: 254mm x 178mm x 56mm
Gewicht: 1936g
ISBN-13: 9781484256251
ISBN-10: 1484256255
Artikelnr.: 58280164
Chapter 1: Associations Chapter 2: Entitites Chapter 3: Fetching Chapter 4: Batching Chapter 5: Collections Chapter 6: Connections and Transactions Chapter 7: Identifiers Chapter 8: Calculating Properties Chapter 9: Monitoring Chapter 10: Configuring DataSource and Connection Pool Chapter 11: Audit Chapter 12: Schemas Chapter 13: Pagination Chapter 14: Queries Chapter 15: Locking 16: Types and Hibernate Types Appendix A: JPA Fundamentals Appendix B: Associations Efficiency Appendix C: 5 SQL Performance Tips That Will Save Your Day Appendix D: How to Create Useful Database Indexes Appendix E: SQL Phenomena Appendix F: Spring Transaction Isolation Level Appendix G: Spring Transaction Propagation Appendix H: Understanding Flushing Mechanism Appendix I: Second Level Cache Appendix J: Tools Appendix K: Hibernate 6