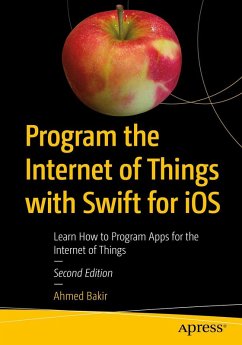 Andere Kunden interessierten sich
auch
für
The Internet of Things is not limited to Apple devices alone, so this book also explains how to interface with popular third-party hardware devices, such as the Fitbit and Raspberry Pi, and generic interfaces, like Restful API's and HTTPS. You'll also review new API's like Face ID and new design considerations, and look more closely at SSL and how to make IoT connected apps more resistant to hackers. The coverage of Apple Watch has been expanded as well. The Internet of Things is waiting - be a part of it!
What You'll Learn
Use Apple's native IoT Frameworks, such as HealthKit, HomeKit, and FaceID

Interact with popular third-party hardware, such as the Raspberry Pi, Arduino, and FitBit

Work with real projects to develop skills based in experience

Make a smarter IoT with SiriKit and CoreML
Who This Book Is For
The primary audience for this book are readers who have a grasp of the basics of iOS development and are looking to improve their Internet of Things-specific skills. Intermediate to Advanced level. The secondary audience would be business decision makers (managers, business analysts, executives) who are looking to gain a rough understanding of what is involved in Internet of Things development for iOS.
Produktdetails
Verlag: Apress / Springer, Berlin
Artikelnr. des Verlages: 978-1-4842-3512-6
2. Aufl.
Seitenzahl: 476
Erscheinungstermin: 30. November 2018
Englisch
Abmessung: 254mm x 178mm x 25mm
Gewicht: 888g
ISBN-13: 9781484235126
ISBN-10: 1484235126
Artikelnr.: 50643575
Chapter 1: Preparing the Foundation for Your First IoT App

Chapter 2: Using Core Location to Build a Workout Tracking App

Chapter 3: Using Core Motion to Integrate Physical Activity Data

Chapter 4: Using HealthKit to Securely Retrieve and Store Health Data

Chapter 5: Building Arduino-based Peripherals

Chapter 6: Building a Bluetooth LE Hardware Companion App

Chapter 7: Setting up a Raspberry Pi and using it as a HomeKit bridge

Chapter 8: Building a web server on a Raspberry Pi

Chapter 9: Using tvOS to Build an Apple TV Dashboard App

Chapter 10: Using watchOS to build an Apple Watch app

Chapter 11: Using Face ID, Touch ID, and the Keychain for a Secure Internet of Things