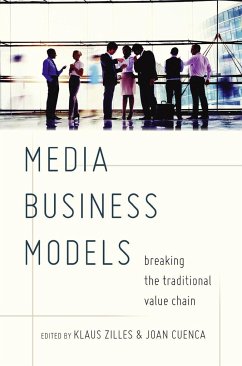 Produktdetails
Verlag: Peter Lang, Pieterlen
Artikelnr. des Verlages: 313179
Erscheinungstermin: 1. Juni 2016
Englisch
Abmessung: 228mm x 154mm x 22mm
Gewicht: 490g
ISBN-13: 9781433131790
ISBN-10: 143313179X
Artikelnr.: 45088857
Contents: Josep María Carbonell/Klaus Zilles/Joan Cuenca: Media Business Models: Breaking the Traditional Value Chain - U.S.and European Perspectives of the Changing Media Value Chain Paradigm in Social Networks and Blogs - Nika Bogdanowska/Ewa Bogdanowska-Jakubowska: Face and the Ethics of Social Networks - Jennifer M.Raymond/Jodi H.Cohen: Mom 2.0: Mothering in the Blogosphere - Ilona Biernacka-Ligieza: Virtual Local Public Sphere: The Role of New Media in Creating a Contemporary Local Democracy - Momentous Challenges in Uncharted Territory: Advertising and Public Relations - Guillem Marca/Kathy Matilla/Andréa Oliveira: Effects of Communication in Public and Media Rationale: Result Measures of Public Relations - Patrícia Dias: Hot Brands Are Cool: The Temperature Scale as a Tool for Branding in a Digital Society - Araceli Castelló-Martínez/Juan Monserrat-Gauchi: The Advertising Offer in the New Media Landscape - Felip Vidal: Media and the Creation of Brand Value in "Signification Advertising": Defining a Model and Case Studies: Muji, Moleskine, Bench - Elisenda Estanyol/Mireia Montaña/Ferran Lalueza: Engagement Is the Name of the Game: Gamification as a Communication Strategy in Advertising and Public Relations - Traditional Television Teams Up With the Social Networks - Ana González-Neira/Natalia Quintas-Froufe: Value Changes in Television Audiences: From the Traditional Audience to the Social Audience - Boris Ruzic: Towards a History of Media Conjuncture: The Daily Show, Audience and the "Revolution" - InterContinental Corollaries of Breaking the Media Value Chain in Journalism - Rita Figueiras/Nelson Costa Ribeiro: The Disruption of the Portuguese Media Democracy? Economic Crisis and Media Ownership - Luis Concepción Sepúlveda/Alfons Medina: Africa in Spanish Newspapers: From Indifference to Irrelevance.