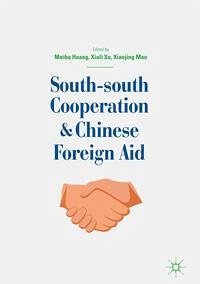 Produktdetails
Verlag: Springer Singapore
Erscheinungstermin: 06.12.2018
Englisch
ISBN-13: 9789811320026
Artikelnr.: 54735593
1. Introduction: South-South cooperation and Chinese foreign aid. 2. Development and characteristics of China's foreign aid: the Tanzania-Zambia Railway. 3. A landmark in China-Africa friendship: the China-aided African Union Conference Center. 4. From micro-analysis to macro-perspective of China's foreign aid: Madagascar's General Hospital project. 5. Chinese foreign humanitarian assistance: Myanmar's 2015 floods. 6. China's aid to Africa's fight against Ebola. 7. A blend of "hard" and "soft" assistance: China's aid to Cambodia. 8. Technology and knowledge transfer: a case study of China's Agricultural Technology Demonstration Center in the United Republic of Tanzania. 9. Peer-to-peer sharing in South-South cooperation: from Village-based Learning Center to China-Tanzania Joint Learning Center. 10. China's agricultural technical cooperation: a case study on juncao aid projects in Papua New Guinea and Fiji. 11. The China-Uganda South-South cooperation project under FAO's Food Security Framework. 12. Agricultural trilateral cooperation: a case study of the FAO + China + host country model. 13. The innovative aid mode of agriculture going global to promote investment: CGCOC and Jiangxi Ganliang. 14. "Aid + investment": the sustainable development approach of China's agricultural aid project in Mozambique. 15. China's South-South development cooperation in practice: China and Ethiopia's industrial parks. 16. Construction of the Zambia-China Economic and Trade Cooperation Zone and South-South cooperation.