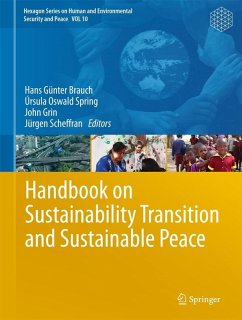 This book is based on workshops held in Mexico (2012) and in the US (2013), on a winter school at Chulalongkorn University, Thailand (2013), and on commissioned chapters. The workshop in Mexico and the publication were supported by two grants by the German Foundation for Peace Research (DSF). All texts in this book were peer-reviewed by scholars from all parts of the world.
---
Dieser Download kann aus rechtlichen Gründen nur mit Rechnungsadresse in A, B, BG, CY, CZ, D, DK, EW, E, FIN, F, GB, GR, HR, H, IRL, I, LT, L, LR, M, NL, PL, P, R, S, SLO, SK ausgeliefert werden.
Produktdetails
Verlag: Springer-Verlag GmbH
Erscheinungstermin: 10.08.2016
Englisch
ISBN-13: 9783319438849
Artikelnr.: 46928867
Material and Immaterial Cultural Transformation.- A Social Contract for Sustainability.- The Climate Paradox: Policy Declarations and Lack of Implementation; The G-20: Security & Peace Impacts.- Persistence and Transformation of Mindsets: The Canadian Case.- Theories of Transitions to Sustainable Development: Approach of the Dutch Knowledge network of Systems Innovation.- Sustainability transitions in transnational society: a governance per spective.- Sustainability transitions.- Factor Five: Transforming the Global Economy through 80% Improvements in Resource Productivity.- Transgovernance: The Quest for Governance of Sustainable Development.- Food and Stability: Challenging Assumptions, Exploring Connections.- Politics of Low Carbon Transitions - Protected niches, actor networks, narratives and changing contexts.- Complex systems and sustainability.- Corporate governance & sustainability or Corporate Governance and Transition to Sustainability.- Sustainability Transition: Change of the Scientific Worldview?- Sustainable Peace during a Sustainable Transition Process.- Project on a River Basin in Morelos: Unsustainable Water Management, Disasters and a Project for a Sustainable Transition.- Future pathways for Mexico and Indonesia: The role of system dynamics for sustainability transition.- The Diffusion of Innovations for the Sustainability Transition.- Cascades and Transitions in Human-Environment Interactions.- Social Representations Theory and Sustainability Transitions.- Paradigm and Praxis Shifts: transitions to sustainable environmental and sustainable peace praxis.- Planetary Boundaries and Failure of Rio + 20.- Sustainability in Divided Brazil: Who Is The More Powerful Between Conservatives and Reformist?- Brazilian Plans and Perspectives on the Transition to a Low Carbon Economy.