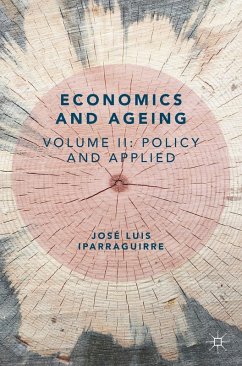 Andere Kunden interessierten sich
auch
für


This volume discusses the fiscal implications of ageing, health economics and long-term care. Fiscal policy issues include generational accounting and national transfer accounts, the relationship between ageing, public expenditure and fiscal policy, the age profiles of public expenditures and taxes, and the relationship between ageing, capital and labour taxation. Health economics with regard to ageing comprises healthy and disability-free life expectancy, the relationship between health inequalities and age, the macroeconomic implications of population health, the socio-economic determinants of health, the interaction between ageing and both individual and aggregate health expenditure, and economic approaches to valuing later life. This volume closes with an exposition of the economics of formal and informal care, as well as questions around insurance, risk and the so-called `sandwich generation'.

Produktdetails
Artikelnr. des Verlages: 978-3-319-93356-6
1st ed. 2018
Erscheinungstermin: 17. Dezember 2018
Englisch
Abmessung: 235mm x 155mm x 17mm
Gewicht: 505g
ISBN-13: 9783319933566
ISBN-10: 3319933566
Artikelnr.: 52516111
Part I: Fiscal policy and Ageing.- Chapter 1: Generational Accounting and National Transfer Accounts.- Chapter 2: Public Spending, Taxation and Ageing.- Part II: Health Economics.- Chapter 3: Health of the Individual and the Society.- Chapter 4: Macroeconomics and Health.- Chapter 5: Economics and the Value of (Later) Life.- Part III: Long-term Care.- Chapter 6: Caregiving Need.- Chapter 7: Demand for and Supply of LTC Services.

"The monograph is exclusively professionally written and the materials are presented in an attractive way. Another advantage of the offered book is the inclusion of a significant number of titles in the bibliography, which makes it a valuable reference for specialists working in this scientific field. It will be a pleasure for me to have this book in my library." (Nikolay Kyurkchiev, zbMATH 1444.91002, 2020)