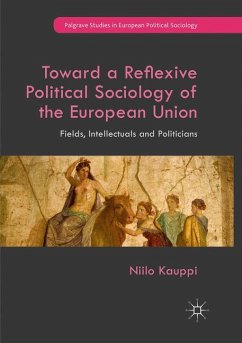 Andere Kunden interessierten sich
auch
für


transnational power that challenge the traditional parameters of the nation-state.

Kauppi identifies and critically explores the evolving dynamics between national

and transnational spaces, groups and knowledge, and suggests that European public

policies and transnational institutions like the European Parliament create new spaces,

types of knowledge and novel political practices.

Toward a Reflexive Political Sociology of the European Union is structured around

three parts. The first focuses on evolving transnational fields. The second explores the

changing role of academics and universities. The third section engages with the works

of Pierre Bourdieu on politics and the media. The issues discussed throughout the

book revolve around the challenges to the nation-state and of knowledge production

that is tied to it.

This book will be an invaluable resource to academics and researchers interested in

European politics, European Union studies and political sociology.


Produktdetails
Palgrave Studies in European Political Sociology
Artikelnr. des Verlages: 978-3-319-89027-2
Softcover reprint of the original 1st ed. 2018
Seitenzahl: 296
Erscheinungstermin: 6. Juni 2019
Englisch
Abmessung: 210mm x 148mm x 16mm
Gewicht: 386g
ISBN-13: 9783319890272
ISBN-10: 3319890271
Artikelnr.: 54868898
Section 1: The Politics of Transnational Integration1. Towards a Sociology of EU Politics2. Exploring the Political Ontology of European Integration3. Analyzing Integration4. Constructing Transnational Fields5. Political Legitimation and European Publics Spaces: Communication as Practice and Resource6. Processes of Differentiation of Political Power in the EUSeciton 2: Reflexive Action and Knowledge Production7. Intellectual Power in Europe8. European Academic Identity9. European Political Science and Global Knowledge10. Academics as Politicians and as Operators of Global GovernanceSection 3: Bourdieuisian Meditations11. Translation and the Politics of Circulating Ideas12. The Secondary Reality of the Media13. Pierre Bourdieu's Theory of Politics: An Interpretation14. The Bourdieu Affair15. Toward a Politically Theory of the SublimeEpilogue: Tinkering with the Future of the EU.
---