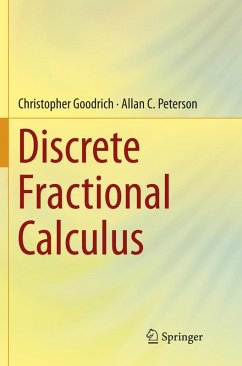 Andere Kunden interessierten sich
auch
für


The presentation of the content is designed to give ample flexibility for potential use in a myriad of courses and for independent study. The novel approach taken by the authors includes a simultaneous treatment of the fractional- and integer-order difference calculus (on a variety of time scales, including both the usual forward and backwards difference operators). The reader will acquire a solid foundation in the classical topics of the discrete calculus while being introduced to exciting recent developments, bringing them to the frontiers of the subject.

Most chapters may be covered or omitted, depending upon the background of the student. For example, the text may be used as a primary reference in an introductory course for difference equations which also includes discrete fractional calculus. Chapters 1-2 provide a basic introduction to the delta calculus including fractional calculus on the set of integers. For courses where students already have background in elementary real analysis, Chapters 1-2 may be covered quickly and readers may then skip to Chapters 6-7 which present some basic results in fractional boundary value problems (FBVPs). Chapters 6-7 in conjunction with some of the current literature listed in the Bibliography can provide a basis for a seminar in the current theory of FBVPs. For a two-semester course, Chapters 1-5 may be covered in depth, providing a very thorough introduction to both the discrete fractional calculus as well as the integer-order calculus.


Produktdetails
Verlag: Springer / Springer, Berlin
Artikelnr. des Verlages: 978-3-319-79809-7
Softcover reprint of the original 1st ed. 2015
Seitenzahl: 572
Erscheinungstermin: 30. März 2018
Englisch
Abmessung: 235mm x 155mm x 30mm
Gewicht: 866g
ISBN-13: 9783319798097
ISBN-10: 331979809X
Artikelnr.: 53574401
Preface.- 1. Basic Difference Calculus.- 2. Discrete Delta Fractional Calculus and Laplace Transforms.- 3. Nabla Fractional Calculus.- 4. Quantum Calculus.- 5. Calculus on Mixed Time Scales.- 6. Fractional Boundary Value Problems.- 7. Nonlocal BVPs and the Discrete Fractional Calculus.-Solutions to Selected Problems.- Bibliography.- Index.
"This textbook is the first dedicated solely to the study of this field. ... this textbook is very well written and easy to follow. ... Each chapter ends with numerous exercises. This book will be very useful to those studying fractional calculus in general and discrete fractional calculus. It will also be useful as a textbook for a course in discrete fractional calculus." (Mohammad Sal Moslehian, zbMATH 1350.39001, 2017)

"This book offers a broad perspective on discrete fractional calculus ... . The book, which includes problem sets, is written, so that it can be used as a textbook. The early chapters begin with the basics, and so the book can be used for a student's first exposure to discrete calculus. The book also covers topics of current research interest with careful attention to techniques and calculations; hence the book is appropriate for advanced seminars in discrete fractional calculus." (P. W. Eloe, Mathematical Reviews, July, 2016)