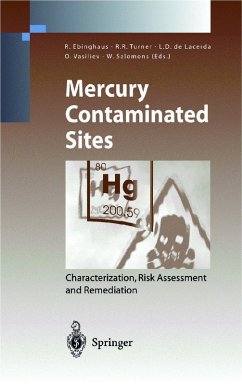 Produktdetails
Environmental Science and Engineering
1998.
Seitenzahl: 560
Erscheinungstermin: 9. November 1998
Englisch
Abmessung: 241mm x 160mm x 39mm
Gewicht: 896g
ISBN-13: 9783540637318
ISBN-10: 3540637311
Artikelnr.: 07790766
I Reviews.- 1 Natural and Anthropogenic Mercury Sources and Their Impact on the Air-Surface Exchange of Mercury on Regional and Global Scales.- 2 Mercury Mines in Europe: Assessment of Emissions and Environmental Contamination.- 3 Mercury Contamination from New World Gold and Silver Mine Tailings.- 4 Mercury-Contaminated Industrial and Mining Sites in North America: an Overview with Selected Case Studies.- 5 Remediation Techniques for Hg-Contaminated Sites.- 6 Advanced Technology Available for the Abatement of Mercury Pollution in the Metallurgical Industry.- 7 Mercury Contamination of Minamata Bay: Historical Overview and Progress Towards Recovery.- 8 Chemical Interactions Between Mercurial Species and Surface Biomolecules from Structural Components of Some Biological Systems.- II International Case Studies.- 1 Distribution, Bioavailability and Speciation of Mercury in Contaminated Soil and Groundwater of a Former Wood Impregnation Plant.- 2 Relative Importance of Non-Point Sources of Mercury to an Industrialized Coastal System, Sepetiba Bay, SE Brazil.- 3 Monitoring and Assessment of Mercury Pollution in the Vicinity of Electrical Engineering Plants in the CIS.- 4 Mercury in Gas and Oil Deposits.- 1 Atmospheric Mercury in Abandoned Mine Structures and Restored Mine Buildings at Mt. Amiata, Italy.- 2 Mercury in the Town of Idrija (Slovenia) After 50o Years of Mining and Smelting.- 3 Evaluation of Internal Doses of Mercury at Intermittent Exposure to Elemental Mercury at the Mine in Idrija.- 4 Mercury in Terrestrial Food Webs of the Idrija Mining Area.- 5 Vegetation on Contaminated Sites near an Hg Mine and Smelter.- 6 Modern Mercury Contamination from Historic Amalgamation Milling of Silver-Gold Ores in the Carson River, Nevada and Jordan Creek, Idaho: Importance of Speciation Analysis in Understanding the Source, Mobility, and Fate of Polluted Materials.- 7 Gold Mining in Siberia as a Source of Mercury Contamination of the Environment.- 1 Estimation of Gaseous Mercury Emissions in Germany: Inverse Modelling of Source Strengths at the Contaminated Industrial Site BSL Werk Schkopau.- 2 Removal of Mercury from Gases by Modified Zeolites in a Stationary Bed.- 3 Mercury Speciation of MSWI Flue Gas on Pilot and Industrial Scales.- 4 Mercury Saturation Profile Across the Sulphur-Impregnated Activated Carbon Bed.- 1 Basic Study on the Remediation Technology of Mercury Compound-Contaminated Soil by Low-Temperature Thermal Treatment.- 2 Electroleaching: a Mobile Cleanup Process for Mercury Contaminated Materials.- 3 Mercury Decontamination of a Chloralkali Plant in Alexandria, Egypt.- 1 Mercury Subsurface Maxima in Sediments: a Diagnostic for Anthropogenic Origins.- 2 Concentration of Mercury and Other Heavy Metals in Central India.- 3 Fluvial Transports of Mercury Pollution in the III River Basin (Northeastern France): Partitioning into Aqueous Phases, Suspended Matter and Bottom Sediments.- 4 Distribution of Total and Methyl Mercury in a Creek Ecosystem Near Bombay.