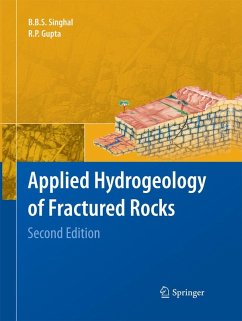 Andere Kunden interessierten sich
auch
für


This book deals comprehensively with the fundamental principles for understanding the hydrogeological characteristics of rocks, as well as exploration techniques and assessment. It also provides in depth discussion on structural mapping, remote sensing, geophysical exploration, GIS, groundwater flow modelling and contaminant transport, field hydraulic testing including tracer tests, groundwater quality, geothermal reservoirs, managed aquifer recharge, and resources assessment and management.

Hydrogeological aspects of various lithology groups, including crystalline rocks, volcanic rocks, carbonate rocks and clastic formations have been dealt with separately, using and discussing examples from all over the world. It will be an invaluable text book cum reference source for postgraduate students, researchers, exploration scientists and engineers engaged in the field of groundwater development in fractured rocks.

Applied Hydrogeology of Fractured Rocks - Second Edition is thoroughly revised and extended with a new chapter, updated sections, many new examples, and expanded and updated references.

Produktdetails
Verlag: Springer Netherlands
2nd ed.
Seitenzahl: 428
Erscheinungstermin: 4. Dezember 2014
Englisch
Abmessung: 279mm x 210mm x 22mm
Gewicht: 1049g
ISBN-13: 9789400790193
ISBN-10: 9400790198
Artikelnr.: 42040584
and Basic Concepts.- Fractures and Discontinuities.- Hydrogeological Investigations.- Remote Sensing.- Geophysical Exploration.- Geographical Information System (GIS).- Principles of Groundwater Flow and Solute Transport.- Hydraulic Properties of Rocks.- Estimation of Hydraulic Properties of Aquifers.- Tracer and Isotope Techniques.- Groundwater Quality.- Groundwater Contamination.- Hydrogeology of Crystalline Rocks.- Hydrogeology of Volcanic Rocks.- Hydrogeology of Carbonate Rocks.- Hydrogeology of Clastic Formations.- Water-wells.- Geothermal Reservoirs and Hot Dry Rock Systems.- Groundwater Modeling.- Assessment and Management of Groundwater Resources.
From the reviews of the previous edition:

"In all, Applied Hydrogeology of Fractured Rocks helps fill the need for a primer in fractured rocks hydrology. It should prove particularly useful to consultants confronted with fractured rock systems, and are in need of some pointers." -- M. Becker, Hydrogeology Journal (2002) 10: 600

"The book has much in it, but nevertheless it must be mentioned that like most of the rest of the book there is a strong section on fractures and discontinuities and their impacts on principles of groundwater flow and solute transport.

I recommend that you persuade your paymasters to purchase one copy for your library." -- Robin Herbert, Geoscience and Development 6, May 2000