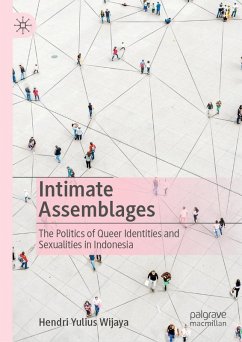 Andere Kunden interessierten sich
auch
für
this book tells the story of local queer movements in challenging the heteronormative society and resisting the homophobic hostility from religious conservative groups and the state. The year 2016 was a touchstone moment for queer issues in Indonesia, marked by the ubiquity of anti-queer campaigns, along with the pervasive use of the term 'LGBT' in public. Drawing on historical archives and his engagements with local queer activisms, Hendri Yulius Wijaya traces the historical shifts of gender and sexual identities in Indonesia, from gay and lesbian, to LGBT, to SOGIE minorities, while exploring their connections with the country's socio-political circumstances and the globalization of queer rights.

Using a strategic blend of queer theory and assemblage framework, Wijaya demonstrates how activists refashion transnational sexuality discourses to balance international developments of queer rights against the contingencies of daily life in Indonesia. Equally importantly, he sheds light on emerging practices in activist landscapes, including the emergence of sexuality experts and the professionalization of activisms. In analyzing the rising tide of homophobic paranoia, Wijaya further shows how the current anti-queer campaigns have branched out into a broader assault on feminism and promoted a form of 'aversion therapy' that positions same-sex attraction as a divine ordeal.

Intimate Assemblages follows the travails of queer activists in defining what it means to be queer in contemporary Indonesia.


Produktdetails
Artikelnr. des Verlages: 978-981-15-2877-4
1st ed. 2020
Seitenzahl: 260
Erscheinungstermin: 16. Februar 2020
Englisch
Abmessung: 218mm x 157mm x 20mm
Gewicht: 439g
ISBN-13: 9789811528774
ISBN-10: 9811528772
Artikelnr.: 58423339
Intimate Assemblages: Sexual Technologies and Identity Politics in Indonesia.- Part 1 Queer Activisms in the Authoritarian New Order Regime (1982 - 1998).- Intimate Nostalgia: Emerging Gay Activism and Technologies of Localization.- Intimate Tutelage: Self-Care, Community Building, and Technologies of Sexual Health.- Part 2 Queer Activisms in the Democratic Regime (1998 - present).- Intimate Injuries: LGBT Rights, Technologies of Citizenship, and Queer Nudge to Democracy.- Intimate Countermovements: Technologies of Anti-Queer Futurity in the Era of Marriage Equality.- Part 3 Queer Activisms in the Face of Escalating Anti-LGBT Panic (2016 - present).- Intimate Ecologies: SOGIE in Motion and Entanglements.- Epilogue Intimate Present (and Futures).

---