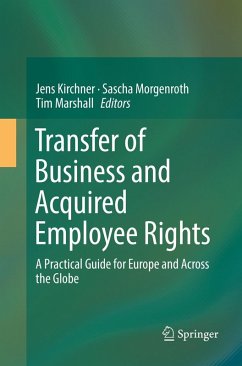 Transfers of business play an important role in today's globalised business world. In particular, employment and labour impacts of transfers of businesses are often a driving legal and business factor in national and international restructurings and M&A transactions. The successful implementation of transfers of business requires to recognise and comply with the relevant legal frameworks of the countries involved.

This publication is written by specialised employment lawyers from around the globe and addresses in-house counsels, human resources managers and legal advisors in charge of or accompanying national or international transactions.


Produktdetails
Verlag: Springer / Springer, Berlin
Artikelnr. des Verlages: 978-3-662-56968-9
Softcover reprint of the original 1st ed. 2016
Seitenzahl: 776
Erscheinungstermin: 20. Juni 2018
Englisch
Abmessung: 235mm x 155mm x 41mm
Gewicht: 11518g
ISBN-13: 9783662569689
ISBN-10: 366256968X
Artikelnr.: 53570285
Part I - EU Law and EU Countries: 1. European Union Law by Jens Kirchner and Sascha Morgenroth.- 2. Austria by Stephan Nitzl and Christian Stuppnig.- 3. Belgium by Eddy Lievens.- 4. The Czech Republic by Petr Samec and Markéta Cibulková.- 5. Denmark by Jonas Enkegaard and Kristine Friis Nolsø.- 6. France by Philippe Danesi and Marie-Astrid Bethenod.- 7. Germany by Jens Kirchner and Sascha Morgenroth.- 8. Hungary by Helga Fehér.- 9. Italy by Fabrizio Morelli.- 10. The Netherlands by Hélène Bogaard.- 11. Poland by Agnieszka Lechman-Filipiak and Katarzyna Magnuska.- 12. Romania by Monica Georgiadis.- 13. Spain by Pilar Menor.- 14. Sweden by Johan Sundberg and Emil Ödling.- 15. United Kingdom by Tim Marshall and Kate Hodgkiss.- Part II - Non-EU Countries: 16. Russia by Vladislav Mazur.- 17. Switzerland by Vincent Carron and Anne Roux-Fouillet.- 18. Turkey by Melek Onaran Yüksel.- Part III - Middle East and Africa: 19. United Arab Emirates by Neil Crossley.- 20. South Africa by Retha Beerman, Aadil Patel and Faan Coetzee.- Part IV - Americas: 21. Brazil by Priscila da Rocha Lago and Thiago Ramos Barbosa.- 22. Canada by Richard Press.- 23. Mexico by Maria Rios.- 24. United States of America by Erin D'Angelo.- Part V - Asia and Pacific: 25. Australia by Rick Catanzariti.- 26. People's Republic of China by Johnny Choi, Alan Wang and Vivienne Jin.- 27. Japan by Lance Miller, Hajime Iwaki, Lawrence Carter and Keiji Nasuda.