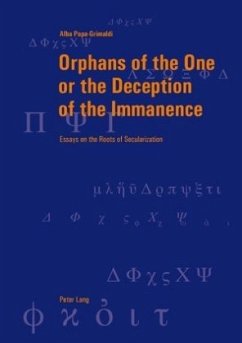 Produktdetails
Berner Reihe philosophischer Studien .42
Artikelnr. des Verlages: 430410
Neuausg.
Seitenzahl: 239
Erscheinungstermin: 1. September 2010
Englisch
Abmessung: 211mm x 146mm x 15mm
Gewicht: 320g
ISBN-13: 9783034304108
ISBN-10: 3034304102
Artikelnr.: 31186051
Contents: The Deception of the Immanence - Consciousness as the One, Self-same Thought that Represents the Many - Plato's Parricide: Self-identity from Ontological to Formal Principle - Aristotle's Ontologization of Change: Many is Actually One - The Return of the One to Thought - A Phenomenal Theory of Causality - The Presumption of Movement - The Self-deception of Nihilism.