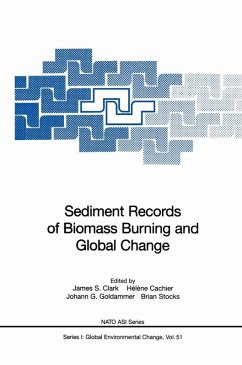 Andere Kunden interessierten sich
auch
für

Bringing together renowned experts from paleoecology, fire ecology, atmospheric chemistry, and organic chemistry, the volume elucidates the role of fire during global changes of the past and future. Topics covered include: the characterization of combustion products that occur in sediments, including char, soot/fly ash, and polycyclic aromatic hydrocarbons; the calibration of these constituents against atmospheric measurements from wildland and prescribed fire emissions; spatial and temporal patterns in combustion emissions at scales of individual burns to the globe.
Produktdetails
Nato ASI Subseries I .51
Verlag: Springer, Berlin
Softcover reprint of the original 1st ed. 1997
Seitenzahl: 508
Erscheinungstermin: 5. Dezember 2012
Englisch
Abmessung: 235mm x 155mm x 27mm
Gewicht: 771g
ISBN-13: 9783642638817
ISBN-10: 3642638813
Artikelnr.: 39173995
An Introduction to Sediment Records of Biomass Burning.- I -The Issues Addressed by Sediment Combustion Records.- Proposed Bio-Geological and Chemical Based Terminology for Fire-Altered Plant Matter.- Background and Local Charcoal in Sediments: Scales of Fire Evidence in the Paleorecord.- Reconstruction of Paleo-Fire Through Climate and Eco-System Models.- The Culture of Fire: An Introduction to Anthropogenic Fire History.- II - Characterizing Combustion Products in Sediments.- Characterization of Particulate Products of Biomass Combustion.- Polycyclic Aromatic Hydrocarbons in Sedimentary Records of Biomass Burning.- III - Particulate Emissions and Transport to Sediments.- Biomass Consumption and Behavior of Wildland Fires in Boreal, Temperate, and Tropical Ecosystems: Parameters Necessary to Interpret Historic Fire Regimes and Future Fire Scenarios.- Biomass Burning Emissions and the Atmosphere.- Atmospheric Transports of Particulate and Gaseous Products by Fires.- IV - Stratigraphic Records.- Pre-Quaternary Records of Wildfire.- Marine Sediments: A Reservoir for Black Carbon and Their Use as Spatial and Temporal Records of Combustion.- Reconstructing Environmental Impacts of Fire from the Holocene Sedimentary Record.- The Sedimentary Record of Fire in Montane Meadows, Sierra Nevada, California, USA: a Preliminary Assessment.- Late Quaternary Climate, Fire, and Vegetation Dynamics.- Holocene Records of Fire from the Boreal and Temperate Zones of Europe.- Controls on Charcoal Distribution in Lake Sediments: Case Studies from Yellowstone National Park and Northwestern Minnesota.- Reconstruction of Fire Disturbance and Forest Succession from Fossil Pollen in Lake Sediments: Potential and Limitations.- The Contribution of Humans to Past Biomass Burning in the Tropics.- Lake Sediment Records of Fossil Fuel-Derived Carbonaceous Aerosols from Combustion.- V - Future Directions.- Report of the Working Discussion Groups.- Cooperation of the Paleofire Science Community with Interdisciplinary Fire Research Programs.