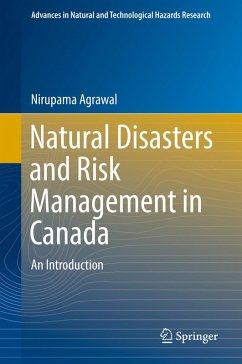 Geräte: PC

ohne Kopierschutz

Größe: 18.39MB
Andere Kunden interessierten sich
auch
für
These chapters provide valuable and comprehensive information on a variety of hazards, including both scientific and social aspects of disasters. The work introduces the concept of large, medium and small scale hazards, and includes many useful case studies as well as working examples of theoretical concepts.
As readers will acknowledge, today the distinction between natural and technological hazards is becoming blurred and a new concept of NATECH hazards is evolving. For permanent hazards (such as tides, wind waves, coastal erosion and climate change) routine predictions are made, whereas for evanescent hazards (including droughts, sea level rise, and coastal subsidence), monitoring of various parameters is the norm. Only for episodic hazards (for example hurricanes, winter storms, tsunamis, and river floods), early warning systems are used, with varying degrees of success.
The book explores how, for certain episodic hazards like tornadoes, landslides, forest fires, snow avalanches, and volcanic eruptions, the early warning systems are still in various stages of development. Readers will gain knowledge of theoretical and practical concepts of risk evaluation which assist in better understanding of disaster dynamics, and readers will become better equipped in quantification of disaster risk and vulnerability. The author explains how risk reduction initiatives, taking into account stakeholders' participation and perception, can provide a roadmap to building resilient communities and cities.
This book will be useful not only to practitioners of disaster management but also to research scholars and graduate students. It is highly readable and will appeal more broadly too, to all those who are interested in the very latest thinking on, and expert analysis of, hazards and disasters.
---
Dieser Download kann aus rechtlichen Gründen nur mit Rechnungsadresse in A, B, BG, CY, CZ, D, DK, EW, E, FIN, F, GR, HR, H, IRL, I, LT, L, LR, M, NL, PL, P, R, S, SLO, SK ausgeliefert werden.