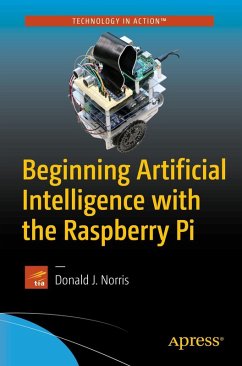 Andere Kunden interessierten sich
auch
für
Produktdetails
Verlag: Springer, Berlin; Apress
1st ed.
Erscheinungstermin: 7. Juni 2017
Englisch
Abmessung: 238mm x 156mm x 25mm
Gewicht: 605g
ISBN-13: 9781484227428
ISBN-10: 1484227425
Artikelnr.: 47606272
Chapter 1 title: Introduction to Artificial Intelligence - Explain what AI is and is not. - Establish why it is important and how it may be used - What is the state of AI today and how is it developing? Chapter 2 title: Basic AI Concepts - What is inference? - Introduce the concept of the expert system - What is machine learning? Detail the various branches of ML. - Is fuzzy logic really fuzzy? Explain how it is used in real-world control situations Chapter 3 title: The Raspberry Pi and an Expert System - Introduce the Prolog language - Demonstrate a simple expert system running on the Raspberry Pi with Prolog - Simple Q&A demonstration using an expert system Chapter 4 title: Some Simple AI Games - Introduce the Python language to implement several games demonstrating AI behavior - Paper, rock, scissors - Nim (or sometimes referred to as pepple pickup) - The "wave" demonstrating emergent behavior - "Tic-Tac-Toe" and an expert system Chapter 5 title: Fuzzy Logic Control Project - Use Prolog to create FL sets - Integrate expert system knowledge into the FL control algorithms - Demonstrate FL control using a Raspberry Pi with a light sensor and LED indicators Chapter 6 title: Machine Learning - Shallow - Explore shallow learning - Simple demonstration about learning a favorite color - Naive Bayesian decisions and decision trees Chapter 7 title: Machine Learning - Deep with Neural Networks- Explore deep learning - Simple two-layer neural network - Neural network demonstration using Python
Chapter 8 title: Machine Learning - Deep with Genetic Algorithms - Explore how to create a genetic algorithm - Implement a "longest-path" algorithm for a virtual robot - Demonstrate the algorithm using a Raspberry Pi controlled "Boe-bot" robotic car
Chapter 9 title: Computer Vision - What is computer vision and how is it related to AI? - Introduction to the Wolfram Language (WL) and Mathematica as run on the Raspberry Pi - Several CV demonstrations using WL/Mathematica using the PiCamera as well raw image data from the Wolfram Research servers
Chapter 10 title: Subsumption - What is subsumption? - Explanation of a virtual subsumption robotic model - An actual subsumption demonstration using the Boe-bot robot from chapter 8.
"This book is a practical introduction to the field of artificial intelligence (AI) that can serve as either a primer to the subject or a companion to theoretical studies. ... Summing Up: Recommended. Lower- and upper-division undergraduates; professionals and practitioners." (J. M. Smith, Choice, Vol. 55 (6), February, 2018)