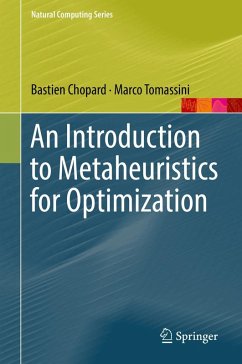 Andere Kunden interessierten sich
auch
für


This textbook is a suitable introduction for undergraduate and graduate students, researchers, and professionals in computer science, engineering, and logistics.


Produktdetails
Natural Computing Series
Verlag: Springer / Springer, Berlin
Artikelnr. des Verlages: 978-3-319-93072-5
1st ed. 2018
Seitenzahl: 240
Erscheinungstermin: 13. November 2018
Englisch
Abmessung: 241mm x 160mm x 19mm
Gewicht: 506g
ISBN-13: 9783319930725
ISBN-10: 3319930729
Artikelnr.: 52491450
Problems, Algorithms, Computational Complexity.- Search Space.- Tabu Search.- Simulated Annealing.- Ant Colony Optimization (ACO).- Non-PSO Optimization.- Firefly Algorithm, Cuckoo Algorithm, Lévy Flights.- Evolutionary Algorithms: Foundations.- Evolutionary Algorithms: Advanced.- Phase Transition in Optimization Problems.- Performance and Limitations of Metaheuristics.- Statistical Analysis of Research Spaces.

"I would recommend this book for students in the area of operations research, but also for students and professionals from other fields (like natural sciences or social sciences) who would like not only to apply metaheuristics to solve the problems ... but also to understand how they work." (Marcin Anholcer, zbMATH 1427.90001, 2020)