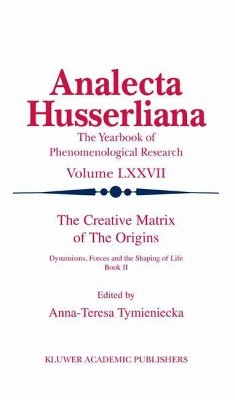 Andere Kunden interessierten sich
auch
für

This unprecedented effort to plumb the workings of the ontopoiesis of life by disentangling its primordial forces and shaping devices as they enter into the originary matrixes of life yields fascinating insights.
Prepared by the investigation of the first two matrixes (the `womb of life' and `sharing-in-life', Analecta Husserliana Volume 74) the present collection of essays focuses upon the third and crowning creative matrix, Imaginatio Creatrix here proves itself to be the source and driving force which brings us to the origins of the human mind - human life.
Studies by: Elof Axel Carlson, A-T. Tymieniecka, N. Milkov, Eldon C. Wait, K. Rokstad, M. Golaszewska, M. Küle, W. Kim Rogers, Piotr Mróz, R. Pinilla Burgos, A. Carrillo Canán, G.R. Ronsivalle, J.E. Smith, A. Pawliszyn, A. Rizzacasa, L. Galzigna and M. Galzigna, Jiro Watanabe, M. Jakubczak, K. Tarnowski, M. Durst, W. Pawliszyn, R.A. Kurenkova, Carmen Cozma, E. Supinska-Polit, I.S. Fiut, Gerald Nyenhuis, Osvaldo Rossi, R.D. Sweeney, and D. Ulicka.
Produktdetails
Analecta Husserliana .77
Softcover reprint of the original 1st ed. 2002
Seitenzahl: 440
Erscheinungstermin: 11. Oktober 2012
Englisch
Abmessung: 223mm x 152mm x 23mm
Gewicht: 611g
ISBN-13: 9789401039291
ISBN-10: 9401039291
Artikelnr.: 37480430
Acknowledgements. The Theme. Inaugural Study. Section I: Color perception: an on-going convergence of reductionism and phenomenology; E.A. Carlson. The logical form of biological objects; N. Milkov. Reconciling descriptions of consciousness from within and from without; E.C. Wait. Nature, subjectivity and the life-world: elements in a comparative perspective on Husserl's Ideas II and the Crisis; K. Rokstad. Self-consciousness as fact, experience and value; a phenomenological reinterpretation; M. Golaszewska. Section II: Intersubjective parameters of the life process; M. Kule. On the individual (who acts and experiences?); W.K. Rogers. Human projects in the existential phenomenology of Sartre; P. Mróz. Krause on the concept of Gemüt and the phenomenology of subjectivity; R.P. Burgos. Kierkegaard's amphibolous conjunction of joy and sorrow and his literary theory; A.C. Canán. Automata in the looking-glass: self-consciousness, epigenetic development and mental models theory; G.B. Ronsivalle. Section III: Leibniz's performationism: between metaphysics and biology; J.E. Smith. A temporality of Dasein (Heidegger) and a time of the other (Levinas); A. Pawliszyn. The time of life and the time of history; A. Rizzacasa. Phenomenological approaches in the life and cognitive sciences; L. Galzigna, M. Galzigna. Edelman's theory of neuronal group selection and reductionism; B. Feltz. Section IV: The significance of art for human life from the viewpoint of ontological aesthetics; J. Watanabe. The aesthetic potential of the element of earth; M. Jakubczak. Metaphysical longing; K. Tarnowski. On the threshold of creativity: a hermeneutic interpretation of the myth of Narcissus; M. Durst. On philosophy and on expertise in philosophy; W. Pawliszyn. Music on the scene of life of the next century; R.A. Kurenkova. Philosophical "exposure" and "interpretation" of a musical creation; C. Cozma. Seed and growth: the art of Teresa Murak; E. Supinska-Polit. The ontology of creative process; I.S. Fiut. Section V: Roman Ingarden's analysis of the concepts of truth in literature; G. Nyenhuis. Myth, "thing" and understanding in Gadamer; O. Rossi. Art and temporality &endash; Ricoeur's hermeneutic approach; R.D. Sweeney. The literary work of art as the creative power in man: on the margin of Roman Ingarden's theory of literary discourse; D. Ulicka. Index.