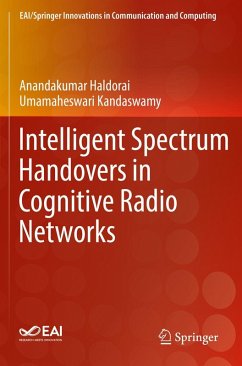 Andere Kunden interessierten sich
auch
für


Identifies energy efficient spectrum sensing techniques for Cooperative Cognitive Radio Networks (CRN);
Shows how to maximize the energy capacity by minimizing the outage probability;

Features end-of-chapter summaries, performance measures, and case studies.

Produktdetails
EAI/Springer Innovations in Communication and Computing
Artikelnr. des Verlages: 978-3-030-15418-9
1st ed. 2019
Seitenzahl: 232
Erscheinungstermin: 14. August 2020
Englisch
Abmessung: 235mm x 155mm x 12mm
Gewicht: 361g
ISBN-13: 9783030154189
ISBN-10: 3030154181
Artikelnr.: 59795787
Chapter1: Cooperative Spectrum Handovers in Cognitive Radio Networks.- Chapter2: Intelligent Cognitive Radio Communication - A Detailed Approach.- Chapter3: Energy Efficient Spectrum Handovers in Cognitive Network Selection.- Chapter4: Software Radio Architecture: A Mathematical Perspective.- Chapter5: Distributed Algorithms for Learning and Cognitive Medium.- Chapter6: Dynamic Spectrum Handovers in Cognitive Radio Networks.- Chapter7: Supervised Machine Learning Techniques in Cognitive Radio Network Handovers.- Chapter8: Green Wireless Communications via Cognitive Handover.- Chapter9: Secure Distributed Spectrum Sensing in Cognitive Radio Networks.- Chapter10: Applications and Services of Intelligent Spectrum Handover.