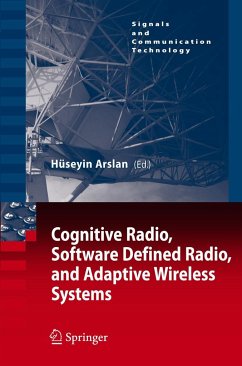 Produktdetails
Signals and Communication Technology
Verlag: Springer Netherlands
Artikelnr. des Verlages: 11609308
Erscheinungstermin: 5. September 2007
Englisch
Abmessung: 248mm x 162mm x 27mm
Gewicht: 857g
ISBN-13: 9781402055416
ISBN-10: 1402055412
Artikelnr.: 22926816
Preface. Chapter 1: Introducing Adaptive, Aware, and Cognitive Radios; Bruce Fette. Chapter 2: Cognitive Networks; Ryan W. Thomas, Daniel H. Friend, Luiz A. DaSilva, Allen B. MacKenzie. Chapter 3: Cognitive Radio Architecture; Joseph Mitola III. Chapter 4: Software Defined Radio Architectures for Cognitive radios; H. Arslan, H. celebi. Chapter 5: Value-Creation and Migration in Adaptive and Cognitive Radio Systems; Keith E. Nolan, Francis J. Mullany, Eamonn Ambrose, Linda E. Doyle. Chapter 6: Codes and Games for Dynamic Spectrum Access; Yiping Xing, Harikeshwar Kushwaha, K.P. Subbalakshmi, R. Chandramouli. Chapter 7: Efficiency and Coexistence Strategies for Cognitive Radio; Sai Shankar N. Chapter 8: Enabling Cognitive Radio Through Sensing, Awareness, and Measurements; H. Arslan, S. yarkan. Chapter 9: Spectrum Sensing for Cognitive Radio Applications; H. Arslan, T. Yucek. Chapter 10: Location Information Management Systems for Cognitive Wireless Networks; H. Arslan, H. Celebi. Chapter 11: OFDM for Cognitive Radio: Merits and Challenges; H. Arslan, H. A. Mahmoud, T.Yucek. Chapter 12: UWB Cognitive Radio; H. Arslan, M.E. Sahin. Chapter 13: Applications of Cognitive radio; H. Arslan, S. Ahmed. Chapter 14: Cross-layer Adaptation and Optimization for Cognitive Radio; H. Arslan, S. Yarkan. Index.