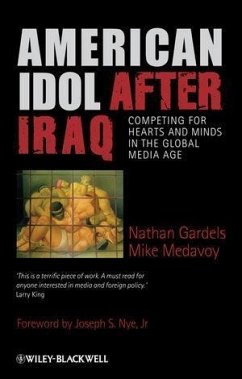 ---
Dieser Download kann aus rechtlichen Gründen nur mit Rechnungsadresse in A, D ausgeliefert werden.
Produktdetails
Verlag: John Wiley & Sons
Seitenzahl: 184
Erscheinungstermin: 27.04.2009
Englisch
ISBN-13: 9781444310504
Artikelnr.: 37349484
Foreword. Six Key Concepts of This Book. 1 Hearts
Minds
and Hollywood. 2 The Magic is Gone - Except at the Box Office. 3 Creativity into Cash: How Hollywood Works. 4 Seeing and Being Seen. 5 Hollywood Beats the Red Army. The Height of America's Cultural Appeal. 6 Backlash: Soft Power is Still Power
and Still Makes Enemies. 7 Culture Wars in the West: The Pope vs. Madonna. 8 Media Storm Troopers of the West vs. Islam. 9 New Stories
New Audiences in the Global Age. 10 Reinventing Cultural Diplomacy. Index.

"This book talks about some of the most vital issues affecting the world today with genuine intelligence and passion." Martin Scorsese, Director

"This book breaks completely new ground in the study of communication power--the key power of the 21st century." Manuel Castells, Author of The Network Society

"Nathan Gardels and Mike Medavoy have not only written the best book about public diplomacy and the global competition of ideas that I have read in 30 years of working in the public diplomacy field - they present the most honest and realistic assessment I've seen of the opportunities and challenges America faces in convincing foreign publics to give us the benefit of the doubt in the years ahead. For present and future decision-makers who who treat public diplomacy like the weather - everyone talks about it but no one knows how to do anything about it - and for Americans who wonder 'why does the world hate us?' this is a must read." Doug Wilson, former Director of Congressional Affairs, US Information Agency and former Principal Deputy Assistant Secretary of Defense for Public Affairs

"The ability to win the hearts and minds of a people rarely comes at the end of a bomb or bullet. Those who reach us through the magic of movies and multimedia technologies have far greater power to capture our ideas and attitudes than does any army. Nathan Gardels and Mike Medavoy have produced an important book that examines this reality. It reviews the history of filmmaking in this context and the forces of globalization, illuminating the path that America needs to follow if we hope to restore our nation to a place of global prominence and moral influence." William. S. Cohen, Former Secretary of Defense

"I'm sure many people will, and should, challenge their own postures after reading this book." Alejandro Gonzalez Inarritu, Director of Babel

"Inspiring. A hugely important problem and have tackled it from a refreshingly novel perspective." Laurence Tribe, Harvard Law School

"Riveting and eye-opening." Katrina van den Heuvel, Editor, The Nation

"A superb insider's account of what American soft power - it's weapon of mass attraction - can really mean in practice. Cogently written, this book demonstrates admirably the length of America's cultural reach to the rest of the world." Chris Patten, Chancellor, Oxford University

"This book poses many acute questions on how American films and culture play into our foreign policy discussion and the world's view of our society. A must read for people in the business of making films." Barry M. Meyer, Chairman and CEO, Warner Bros. Entertainment Inc.

"Those Americans who travel the world have the opportunity to see the massive impact American popular culture has in virtually ever society on the planet. Nathan Gardels and Mike Medavoy are intimately acquainted with the entertainment industry and have sophisticated political roots. Both assets eminently qualify them to propose new, more imaginative, and more productive ways in which America's movies and entertainment can be invaluable tools in what surely must become a more sophisticated approach to American diplomacy and leadership in the world." Gary Hart, United States Senator
"The authors draw on their extensive experience and contacts within the political and entertainment arenas to present an interesting analysis of the role of media, and especially Hollywood film, in support of US foreign policy objectives." (CHOICE, January 2010)

"Gardels and Medavoy, two of California's most creative public intellectuals, bring a West Coast perspective to the role of culture in foreign policy. Gardels and Medavoy offer interesting observations on these trends." (Foreign Affairs Magazine, Sep/Oct 2009) "The book ends with a powerful challenge to Hollywood to accept its responsibility as a major player in the struggle to restore America's moral influence in the world." (Huffington Post, June 2009)

"American Idol After Iraq will inspire debates the country needs to have regarding the power of pop culture." (Pajamas Media, June 2009)

"Short and a delight to read, focusing, not surprisingly, on the power of the West Coast to project American 'soft-power' almost everywhere through the pervasive and alluring imagery of mass entertainment." (Providence Journal, June 2009)

"It is comparatively short and a delight to read, focusing, not surprisingly, on the power of the West Coast to project American 'soft power' almost everywhere through the pervasive and alluring imagery of mass entertainment." (Japan Times Online, May 2009)

"The tone of the book is pitch perfect--combining a passionate appeal for soft power with a rigorous analysis of what it will take to restore America's influence in the world." (Huffington Post, May 2009)

"Gardel's and Medavoy's readable and yet comprehensive book explores the need to understand the effective use of power in an increasingly globalized world; the understanding of which has never been more pressing or pertinent, following, as it has, the increasingly negative perceptions of America's policies abroad." (Editorial On The Environmentalist, April 2009)

"This fascinating work, rich in dates and anecdotes, opens our eyes to the impact the Hollywood audiovisual phenomenon has had and still has, as well as analyzing the image of America and the role its cinema must play. Both entertaining and informative, as well as brave, Nathan Gardels and Mike Medavoy's book defines challenges and obstacles in order to overcome them, as well as providing solutions." [Translated from Spanish.] (Critica Libro, April 2009)

"Gardels and Medavoy's text succeeds in challenging the philosophical assumptions of public diplomacy while remaining accessible and practical." (Public Diplomacy Magazine, Winter 2009)