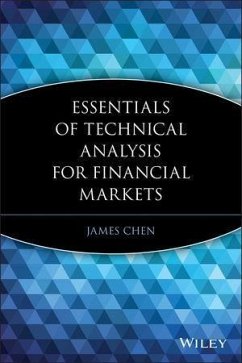 ---
Dieser Download kann aus rechtlichen Gründen nur mit Rechnungsadresse in A, D ausgeliefert werden.
Produktdetails
Verlag: John Wiley & Sons
Seitenzahl: 240
Erscheinungstermin: 22.04.2010
Englisch
ISBN-13: 9780470625545
Artikelnr.: 37297825
Preface. Acknowledgments. 1 Introduction to Technical Analysis: Pursuing Profit in the Financial Markets. What Is Technical Analysis? Technical versus Fundamental. Methods. What to Expect. Summary. 2 The Story of Technical Analysis: From the Japanese Rice Markets to Dow Theory to Automated Trading. The Beginning: Japanese Rice Markets. Dow Theory. Charting. Elliott Wave. W. D. Gann. Indicators. Trend Followers. Market Technicians Association. Technical Analysis Today. Summary. 3 The Power of Technical Analysis: Principles of Price Action. Introduction to Price Action Concepts. Components of Price Action. Summary. 4 The Basics of Technical Analysis: Bars, Candlesticks, Lines, and Point and Figure. Bars and Candlesticks. Line Charts. Point
and
Figure Charts. Summary. 5 The Heart of Technical Analysis: Uptrends and Downtrends. Introduction to Trend. Effect of Time Frames on Trend Determination. Parallel Trend Channels. Trend Lines. Summary. 6 The Soul of Technical Analysis: Support and Resistance. Introduction to Support and Resistance. Support Becomes Resistance Becomes Support. Summary. 7 Primary Drawing Tools: Trend Lines, Trend Channels, and Horizontal Support and Resistance. Introduction to Drawing Tools. Static Support and Resistance. Dynamic Support and Resistance. Horizontal Support and Resistance Lines. Trend Lines. Parallel Trend Channels. Summary. 8 Chart Patterns: Bar Shapes and Candlestick Formations. Introduction to Chart Patterns. Continuation Bar Patterns. Reversal Bar Patterns. Gaps. Candlestick Patterns. Single
Candle Patterns. Multiple
Candle Patterns. Summary. 9 The World of Moving Averages. Introduction to Moving Averages. Moving Average Crossovers. Moving Averages as Support and Resistance. Summary. 10 Key Technical Indicators and Oscillators. Introduction to Indicators and Oscillators. Key Indicators. Key Oscillators. Summary. 11 Fibonacci and Elliott Wave. Fibonacci Theory and Methods. Elliott Wave Theory. Summary. 12 Point
and
Figure Charting. Introduction to Point and Figure. Point
and
Figure Patterns. Point
and
Figure Price Targets. Summary. 13 Volume. Introduction to Volume. On
Balance Volume. Tick Volume. Summary. 14 Technical Trading Strategies: Practical Applications. Introduction to Technical Trading Strategies. Moving Average Crossovers. Breakout Trading. Trend Trading. Range Trading. Price
Oscillator Divergences. Oscillator Trading. Fibonacci Trading. Positive Expectancy. Summary. 15 Risk Control and Money Management. Introduction to Risk Control and Money Management. Stop
Losses. Reward:Risk Ratio. Maximum Allowable Loss. Multiple Fractional Positions. Diversification. Summary. Index.