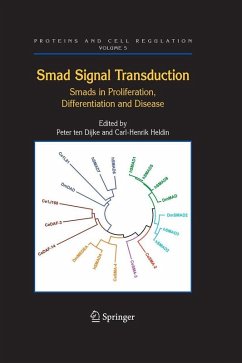 Andere Kunden interessierten sich
auch
für
---
Dieser Download kann aus rechtlichen Gründen nur mit Rechnungsadresse in A, B, BG, CY, CZ, D, DK, EW, E, FIN, F, GB, GR, HR, H, IRL, I, LT, L, LR, M, NL, PL, P, R, S, SLO, SK ausgeliefert werden.
Produktdetails
Verlag: Springer-Verlag GmbH
Erscheinungstermin: 10.05.2007
Englisch
ISBN-13: 9781402047091
Artikelnr.: 37338918
1. Preface: the Smad family; P. ten Dijke and C-H. Heldin. 2. Evolution of Smad proteins; S. Newfeld. 3. Smad signaling in C. elegans; R. Padgett and G. Paterson; 4. Mad signaling in Drosophila; L.Raftery. 5. Delineating the TGF- ß/Smad-induced cytostatic response; F. Liu. 6. TGF- ß/Smad signaling in mesenchymal cell differentiation; R. Derynck. 7. Regulation of cell death and survival by Smads; K. Luo. 8. TGF- ß/Smad signaling in epithelial to mesenchymal transition; A. Moustakas. 9. Functional analysis of Smads through gene ablation in mice; C. Deng. 10. Regulation of Smad activation through endocytic segregation of TGF- ß receptors; J. Wrana. 11. Nucleocytoplasmic shuttling of Smad proteins; C. Hill. 12. Structural insights into Smad function and specificity; Y. Shi . 13. Regulation of Smad function by phosphorylation; S. Souchelnytskyi. 14. Regulation of Smad function through ubiquitination and sumoylation; X.-H. Feng. 15. Smad co-activators and co-repressors; K. Miyazono. 16. Integration of signaling pathways via Smads and Smad interacting proteins; L. Attisano. 17. Interplay between Smad and MAP kinase signaling pathways; A. Mauviel. 18. Gene expression signatures of TGF- ß/Smad-induced responses; E. Böttinger. 19. Systems biology approaches to TGF- ß/Smad signaling; M. Tewari. 20. Inhibitory Smads; mechanism of action and role in human diseases; A. Nakao. 21. Alterations of Smad signaling in carcinogenesis; S.-J. Kimand J. Letterio. 22. TGF- ß receptor kinase inhibitors for treatment of cancer; J. Yingling. 23. TGF- ß receptor kinase inhibitors for treatment of fibrosis; N. Laping and S. Huet.
From the reviews:

"This text would ideally gather all relevant information on Smads in signal transduction in general and at the crossroads between developmental and cell biology in particular. ... This is definitely an 'all-in' book for those interested in or working on TGFß receptor signal transduction in general and Smad proteins in particular. ... it is a must for all of us working in the field of TGFß signaling and Smad signal transduction, and for those of us who are teaching post-graduate courses in signal transduction." (Danny Huylebroeck, Development, Vol. 134 (24), 2007)