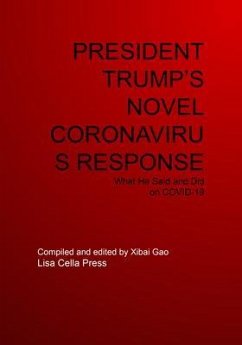 Geräte: eReader

mit Kopierschutz

Größe: 0.17MB
Andere Kunden interessierten sich
auch
für
This book will help explain how the pandemic in the U.S. gets where it is now. It is not another debate with my wife, but a presentation of pure facts (what Mr. Trump said itself is a fact but not necessarily true, because, as Mr. Trump said, "everybody makes mistakes") for the readers.
During editing, I realize this book basically benefits Mr. Trump since he, for good or bad, is never shy of self-praising and I did not include public comments or replies to his saying. The balance is that, sometimes, when people talk too much, you can make up your mind just by "listening" between the lines and minding its consistency and sufficiency. I also recommend watching three interesting interviews with Mr. Trump: one by Mr. Chris Wallace of Fox News on July 19, 2020, one by Mr. Jonathan Swan of Axios on August 3, 2020 and one by Mr. Geraldo Rivera on August 6, 2020. In the three interviews, Mr. Trump had ample opportunity to answer some sharp but fair questions. Well, "It is what it is," as Mr. Trump said. You are the judge, to be exact, the juror, who can cast vote on November 3, 2020.
My first book
"China's Novel Coronavirus Response: Guidelines for Government, Communities, Entities and Individuals to Combat COVID-19"
(ISBN: 9781953266026) may help answer Mr. Trump's question: why China largely contains the coronavirus to the city of Wuhan within China. See Mr. Trump's remarks on June 5. But don't buy that book, unless you are studying China's pandemic mitigation measures. It is a systematic compilation of Chinese guidelines and regulations on coronavirus, and could be boring to read through. Do buy this book because:
It is more fun to read some of Mr. Trump's remarks, such as "The governor of Louisiana has been great on the bed - on that whole situation with the [hospital] beds" or "Frankly, the governor of Michigan was very good with us on - on beds."
In addition, you and your significant other, by putting this book on the table, could save a lot of saliva from flying around thus lower the risk of virus infection. Enjoy this book and your meal. Good luck.
On August 29, Mr. Trump tweeted "About the only way a person is able to write a book on me is if they agree that it will contain as much bad "stuff" as possible, much of which is lies. It's like getting a job with CNN or MSDNC and saying that "President Trump is great." You have ZERO chance. FAKE NEWS!" But much of this book is Mr. Trump's own words... So, it looks like either Mr. Trump or this book is locked in this logic puzzle. But, give this book a chance, please.
Thanks to everyone who contributed to this book. I guarantee that you will not be exposed. But Mr. Trump said "There's never a guarantee when you're dealing with people, right?"
---
Dieser Download kann aus rechtlichen Gründen nur mit Rechnungsadresse in A, D ausgeliefert werden.
Produktdetails
Verlag: Lisa Cella Press, Inc.
Seitenzahl: 246
Erscheinungstermin: 12. September 2020
Englisch
ISBN-13: 9781953266057
Artikelnr.: 60199069