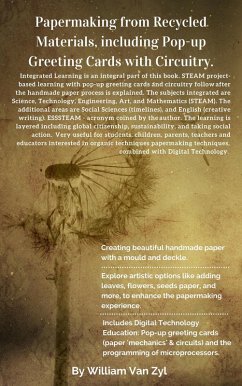 *111 size A4 pages (12700 words)
This book will introduce and cover the basics of making handmade paper from recycled paper. The basic tools and equipment required for papermaking are covered. The steps of how to make a sheet of paper are included. Ideas like greeting cards pop-up cards, wrapping paper, and more, are explored and explained. Techniques like adding seeds, doing printing on the paper, colouring and scenting the paper - to name a few - will be discussed.
From a teaching perspective, the underlying value of these activities will be investigated. For parents and educators, several layers of integrated learning are included in this resource. STEAM (Science, Technology, Engineering, Art, and Mathematics) is explored in the process of papermaking, and the integration of these subject areas are illustrated.
The following areas will also be touched on, namely, global citizenship, sustainability, taking action for the environment, taking social action, entrepreneurship, business opportunities, accounting, and more. These areas are very relevant to teaching in a modern day context. It is practical and focuses on cutting-edge educational practice to date. These layered and integrated aspects will provide a rich educational approach to project-based learning. It includes creating and selling handmade greeting cards with and without circuitry.
Additionally, some very creative techniques for adding value and fun to the papermaking process are introduced. For example, dyes for papermaking (colouring), different paper textures (choice of materials), scented paper and exploring different fibres.
The last section of the book includes pop-up greeting card making. The goal is to plan the papermaking (colours and textures, etc.) for pop-up card making as a second activity. From a scientific and electronics perspective, electrical circuits to the pop-up card will be introduced. For example, led lights, microprocessors, buzzers, switches, and more. Finally, the basic programming of microprocessors will be discussed. The microprocessor will be programmed to light up led lights, make buzzers go, and more. User-friendly interfaces like Micro:bit, Arduino Uno, Picaxe, Arduino LilyPad, and Raspberry Pi are discussed towards the end of the book. Projects like computational books and pop-up books with circuitry with microprocessors and more are included.
---
Dieser Download kann aus rechtlichen Gründen nur mit Rechnungsadresse in A, B, CY, CZ, D, DK, EW, E, FIN, F, GR, H, IRL, I, LT, L, LR, M, NL, PL, P, R, S, SLO, SK ausgeliefert werden.
Produktdetails
Verlag: Five House Publishing
Erscheinungstermin: 20.06.2018
Englisch
ISBN-13: 9780473438340
Artikelnr.: 53007047