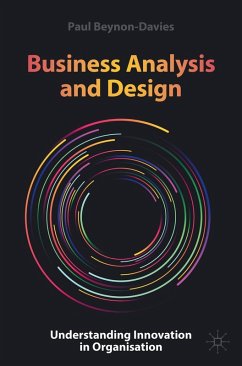 Andere Kunden interessierten sich
auch
für
This book provides coverage of critical tools for design which enable business professionals to analyse existing ways of organizing and to design new ways of organizing. The reader will learn how to develop a digital business model to organize private, public or voluntary work. In doing so, the reader will learn to critically evaluate the notion of digital innovation and understand the proper place of ICT within organization.
The reader will learn how to:
critically evaluate the relevance of digital innovation to domains of organisation
develop digital business models to organize private, public or voluntary work
construct business strategy and relate it to business models, motivation models, innovation management and change management
Written by an expert in the field, this book is designed for both students and professionals. Each chapter contains an introduction, a section of key reading, and a summary, while a number of cases based on real-life examples are worked through as examples in the text, demonstrating the real-life application of the design theory discussed.
---
Dieser Download kann aus rechtlichen Gründen nur mit Rechnungsadresse in A, B, BG, CY, CZ, D, DK, EW, E, FIN, F, GR, HR, H, IRL, I, LT, L, LR, M, NL, PL, P, R, S, SLO, SK ausgeliefert werden.
Produktdetails
Seitenzahl: 409
Erscheinungstermin: 5. Mai 2021
Englisch
ISBN-13: 9783030679620
Artikelnr.: 62299486
1. Introduction: making sense of business

This chapter introduces the idea that design thinking is important to both making sense of and resolving many contemporary problems of organisation, within the private, public and voluntary sectors. The chapter begins by considering the difficulties of breaking with conventional ways of thinking and locates business analysis and business design within what has become known as design science. It then explains the nature of design science and how it differs from natural and social science. To help apply design science as it is applicable to business the chapter also examines the nature of design theory and design artefacts.

2. Signs, Patterns and Systems This chapter covers the fundamental design theory underlying the business design approach described in the book. At a very high-level we define business analysis and design as making sense of business - or organisation more generally. But to make sense we need concepts and within this book we utilise three inter-related concepts to form our design theory: signs, patterns and systems. These concepts are used to build models of a particular domain of organisation - as it currently is, or as we would like it to be. We argue that modelling in such a manner is the only effective way of dealing with the increasing complexity of organisation evident in the modern world. The chapter ends by setting a business game which the reader is taken through to understand the basis of the design theory imparted.

3. What is design?

To help centre the notion of design this chapter examines the work of some great designers focusing on an array of different design artefacts. It then ponders on the nature of design as an activity and considers what it means to design business. This leads to a consideration of a range of popular techniques used to both set problems and solve problems. This enables us to set the context for the toolkit of design techniques described in this book. We place our toolkit against a lifecycle model of analysis and design and explain how these techniques relate to other techniques available in the armoury of the business designer.

4. Designing organisation

In this chapter we examine the nature of organisation. We consider first two alternative viewpoints on organisation which we refer to as the institutional and action views. This enables us to demonstrate how these competing viewpoints can be unified through the systems concept of emergence. Within this book organisation is best viewed as a complex system and we focus on specific facets of organisation known as socio-technical systems. We propose that such systems are made up of patterns of action which regenerate institutional structure but are always catalysts for change. This leads us to consider the essential elements of patterns of organisation: actors, action, location and sequence. We define the concept of role in terms of actors taking conventional action and make the case for considering not only technologies such as IT systems as actors but also data structures.

5. Projects of design

Business analysis and design work is normally organised in terms of projects. A project is any concerted and systematic effort to achieve a set of objectives. All projects consist of teams of people engaged in the achievement of explicit objectives, usually with a set timescale. As such a business design project can be considered an activity system. A team of business actors is normally appointed to undertake such projects. These actors not only communicate amongst themselves they also communicate with other actors in the process of business investigation. Hence, any project work relies upon an associated information system. Also, in undertaking business analysis work project members document results as models - this comprises the data system for the business analysis project.

6. Investigating domains of organisation

The work of the business analyst is similar to that of the ethnographer, a style of research which seeks to make sense of social settings in a rounded or holistic way. The ethnographer tries to make sense of strange cultures or attempts to make strange her own culture and to enable this sense-making a whole range of investigation techniques are normally employed. In a similar manner the business analyst tries to make sense of existing business situations or future business situations. Investigation techniques such as interviews, observation, documentary analysis and workshops support such sense-making. Various forms of representation are then constructed to communicate common understanding between different business actors. Representations such as storyboards are used as an intermediate representation to communicate with business users and clients; more formal representations such as information models are used to communicate with other business analysts and technical actors, such as ICT system developers.

7. Engaging with problem situations

To begin to design you first have to establish what you wish to design. This means establishing or setting the problem to be engaged with. Problem-setting involves exploring the problem space or problem situation and discovering its features. It also involves setting the boundaries around the problem - what you shall consider within design and what you shall not. However, problems of organisation are rarely straightforward. Problem situations in this domain exist for would-be-improvers but vary depending upon the system stakeholder. Within this chapter we explore a number of techniques for engaging with the complexity of problem situations: brainstorming, affinity mapping, stakeholder analysis, rich pictures and MoSCoW prioritisation.

8. Making sense of business activity

In this chapter we look at what people do or should do to organise. We shall look at how actors within organisations coordinate their activities in the pursuit of collective goals. We shall show how goals relate to the issue of value and then unpack the notion of performance and relate it to goals and their measurement. Finally, we shall consider how we can design patterns of coordinated activity to achieve goals. To help do this we prototype and visualise levels of inter-related system making up any socio-technical organisation. We demonstrate how to model the first level of such system which we refer to as an activity system.

9. Making sense of business information

In this chapter we examine the nature of information and argue that information is accomplished in instrumental (goal-directed) communication. Information, as we shall see, is the differences that some encounter with data makes to some actor. Information is accomplished both in terms of the intent and content of communication and such communication occurs in patterns which can be both analysed and designed. The chapter shows how to model patterns and systems of instrumental communication which related to patterns and systems of activity.

10.Making sense of business data

In this chapter we examine issues relating to the design of data and its articulation. Information and/or data is normally seen to the be the stuff of information and communication technology. These two terms are thus used interchangeably but in also in very loose ways. This chapter argues for the importance of being precise about the distinction between data and information and how this distinction matters to the design of organisation. The chapter centres on the concept of a data structure and demonstrates that data structures are not only informative they are also performative (they get things done). We then focus on ways of designing not only data structures but the life-cycle of articulation that such structures have.

11.Understanding digital innovation

In this chapter we consider issues of innovation and change, particularly digital innovation and its effect on organisation. Innovation involves thinking differently with the aim of doing things differently, hopefully to make a difference. We demonstrate how it is impossible to just design ICT - whenever technology is designed we inherently re-design patterns of communication and activity. Hence, digital innovation involves the design of business models which outlines the sequences of action necessary for the achievement of certain goals which may have strategic consequences.

12.Building digital business models

The concept of a business model is much used in both business literature and practice. However, it is very poorly defined and conceptualised in many domains. We spend time in this chapter explaining not only what a business model is but what it is not. In terms of a design orientation it is productive to view a business model as a complex of business patterns appropriate to some domain of organisation.

13.Business motivation, change and strategy

Our way of thinking about organisation in terms of design also gives us a clearer way of thinking about business change. Business motivation involves the need to document explicit reasons for changing an existing (as-is) business model. The equifinality of business models as open systems means that more than one envisaged (as-if) business model may fulfil one or more aspects of expressed motivation. Business strategy involves optimising the selection amongst as-if business models and specifying courses of action (change management) to implement a new (to-be) business model.

14.A compendium of business analysis and design techniques

A compendium of magic tricks contained not only artefacts needed to conduct the tricks themselves. It also contained detailed instructions as to how to perform each trick. In much the same vein we present a compendium of the 'tricks of the trade' associated with the contemporary practices of business analysis and business design. The techniques are presented in alphabetical order with a brief description of what each technique involves.