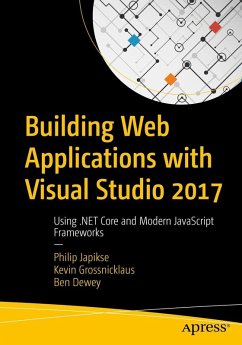 Andere Kunden interessierten sich
auch
für
Learn how to build web applications from three Microsoft MVPs. After building the data application layer using Entity Framework Core and a RESTful service using ASP.NET Core, you will then build the client side web application three ways: first, using ASP.NET Core, then using Angular 2, and, finally, using React. You will be able to compare and contrast these UI frameworks and select the best one for your needs.
.NET Core is a complete rewrite of the popular .NET and its related frameworks. While many concepts are similar between .NET Core and the .NET 4.6 framework, there are revolutionary changes as well, including updates to Entity Framework Core and ASP.NET Core. The first section of this book covers the three main parts of building applications with C#: Entity Framework, ASP.NET Core Services, and ASP.NET Core Web Applications.
There is also an explosion in popularity of JavaScript frameworks for client side development, and the authors cover two of the most popular UI frameworks. Start with TypeScript for developing clean JavaScript, along with a client side build tool such as Gulp, Grunt, and WebPack. Using the same data access layer and RESTful service from the .NET Core application, you can rebuild the UI using Angular 2. Then, repeat the process using React, for a true comparison of building client side applications using ASP.NET Core, Angular 2, and React.
What You'll Learn
Understand the fundamentals of .NET Core and what that means to the traditional .NET developer
Build a data access layer with Entity Framework Core, a RESTful service with ASP.NET Core MVC, and a website with ASP.NET Core MVC and Bootstrap
Automate many build tasks with client side build utilities
Who This Book Is For
Intermediate to advanced .NET developers
---
Dieser Download kann aus rechtlichen Gründen nur mit Rechnungsadresse in A, B, BG, CY, CZ, D, DK, EW, E, FIN, F, GR, HR, H, IRL, I, LT, L, LR, M, NL, PL, P, R, S, SLO, SK ausgeliefert werden.
Produktdetails
Verlag: Springer-Verlag GmbH
Seitenzahl: 393
Erscheinungstermin: 8. Juli 2017
Englisch
ISBN-13: 9781484224786
Artikelnr.: 53036475
Es gelten unsere Allgemeinen Geschäftsbedingungen: www.buecher.de/agb
Impressum
www.buecher.de ist ein Shop der
buecher.de GmbH & Co. KG
Bürgermeister-Wegele-Str. 12,
86167 Augsburg
Amtsgericht Augsburg HRA 13309
Persönlich haftender Gesellschafter: buecher.de Verwaltungs GmbH
Amtsgericht Augsburg HRB 16890

Vertretungsberechtigte:
Günter Hilger, Geschäftsführer
Clemens Todd, Geschäftsführer

Sitz der Gesellschaft:Augsburg
Ust-IdNr. DE 204210010
---
Bitte wählen Sie Ihr Anliegen aus.