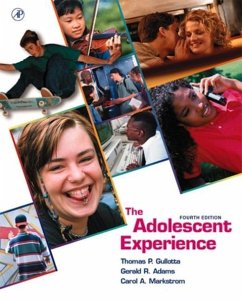 Produktdetails
Verlag: ACADEMIC PR INC
Revised
Seitenzahl: 568
Erscheinungstermin: September 1999
Englisch
Abmessung: 233mm x 190mm x 25mm
Gewicht: 1002g
ISBN-13: 9780123055606
ISBN-10: 0123055601
Artikelnr.: 39336955
Preface.
Welcome to the Study of Adolescence:
Welcome to the Study of Adolescence.
Theories and Research Methods.
Patterns of Adolescent Development:
Intellectual and Cognitive Development.
Identity Development and Self-Concept.
Gender Differences and Sex-Role Development.
Physical Growth and Sexual Development.
Influences on Adolescent Development:
The Family.
Peer, Leisure, and Work Experiences.
Education.
Dealing with Issues of Concern: Prevention and Treatment:
Helping Adolescents: Intervention and Prevention.
Adolescent Sexuality: Issues for Concern.
Substance Use and Abuse in Adolescence.
Crime and Delinquency.
Eating Disorders.
Depression and Suicide in Adolescence.
Part Five: Parting Thoughts:
Of Time and Soothsaying.
References.
Photo Credits.
Index.