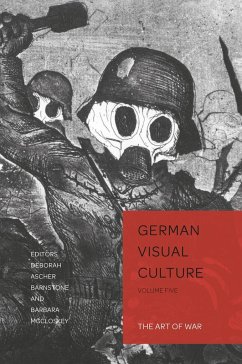 Andere Kunden interessierten sich
auch
für


The central concerns of the volume are the multivalent aspects of art that respond to war. It begins by considering art conceived of and executed in response to the First World War on the centennial anniversary of that event. The volume goes on to examine art in the wake of the Holocaust and artistic responses to more recent conflict, such as the Vietnam War. The essays in this volume explore a variety of media - including paintings by Otto Dix and Gerhard Richter, Holocaust photography by Heimrad Bäcker, and sculpture by Emy Roeder, Gela Forster, and Renée Sintenis - to chart the complex relationship between art and war in both its documentary and analytical functions.


Produktdetails
German Visual Culture .5
Artikelnr. des Verlages: 707383
Neuausg.
Seitenzahl: 318
Erscheinungstermin: 30. August 2017
Englisch
Abmessung: 231mm x 155mm x 21mm
Gewicht: 550g
ISBN-13: 9781787073838
ISBN-10: 1787073831
Artikelnr.: 48762891
CONTENTS: Barbara McCloskey: Introduction: What Can Art Do? - Robert C. Kunath: World War I, German Art, and Cultural Trauma: The Birth of the "Degenerate Art". Exhibition from the "Spirit of 1914" - Deborah Ascher Barnstone: Max Liebermann's Kriegszeit Lithographs: Pro-war or Anti-war? - Nina Lübbren: Women, War, and Naked Men: German Women Sculptors and the Male Nude, 1915-1925 - James A. van Dyke: Dix Petrified - Katrin Dettmer: "All of a sudden, there was this split": Heiner Müller's Poetics of Trauma - Justin Court: Heimrad Bäcker: Photography at the Limits of Understanding the Holocaust and its Violence - David Kenosian: Aftershocks: (Missing) Holocaust Photographs and Writing the Past in Uwe Johnson's Jahrestage and W. G. Sebald's "Max Ferber" - Annette Vowinckel: Horst Faas, Thomas Billhardt, and the Visual Vietnam War in the Two Germanys - Andrea Gyorody: This Sum of Catastrophes: Excavating the History of Joseph Beuys's 7000 Oaks - Svea Braeunert: Deferring Perspective in Times of Urgency: Louise Lawler Looks at Gerhard Richter's Painting of the Air War.