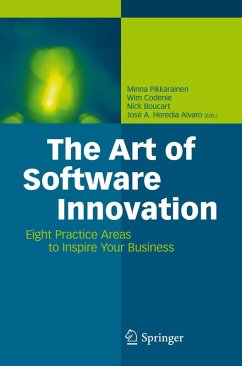 Andere Kunden interessierten sich
auch
für

This book will provide you with the answer.
Software innovation is multifaceted and the approaches used by companies can be very different. The team of authors that wrote this book took the assumption that there is no such thing as a universal software engineering process or innovation process. Some things work well for a certain company, others do not. The book is organized around what the authors call eight fundamental practice areas for innovation with software. Each practice area contains a number of activities that can help companies to master that practice area. It also contains industrial experience reports that illustrate the applicability of these practice areas in software companies and is structured in such a way that you can select and read only those practice areas that are relevant to your company.
The book is written with an industrial target audience in mind. Its most important goal is to challenge companies by offering them a framework to become more innovation-driven, rather than engineering-driven. Intrigued? Here you will find details of what you and your company can do to understand, implement, and sustain continuous innovation.
Produktdetails
Verlag: Springer, Berlin
Artikelnr. des Verlages: 80036460
Erscheinungstermin: 25. August 2011
Englisch
Abmessung: 241mm x 160mm x 17mm
Gewicht: 481g
ISBN-13: 9783642210488
ISBN-10: 3642210481
Artikelnr.: 33345014
Introduction.- The Practice Areas.- Industrial Cases about Software Innovation.- Conclusions.
"Software innovation is radically changing the way we communicate, interact, and organise ourselves today. What is now, will be different tomorrow. The eight software innovation practice areas in this book will stimulate your creative assets to better use." - Suvi Keinänen, Movial Creative Technologies Inc.

"Software innovation is a major concern for IT service companies like Steria whose daily business no longer only consists of delivering innovative solutions to its customers but also of helping them on their journey towards innovation." - Pierre Paelinck, Steria

"Metso's aim is to create value continuously by improving the quality, production and environmental aspects, and the cost-efficiency of its customers' processes. Innovation plays a key role in implementing these aims." - Antti Välimäki, Metso

"Ever-accelerating technological change has moved innovation in the software sector past mere opportunity into the heart of the business strategy. We used to be amazed that young start-ups could challenge and unseat global IT giants in just a few years. Now we measure such shifts in mere months and speculate on how the current crop will stand up to next quarters' challengers. Innovation in software is about more than planning the next product release or service methodology update. We need to embrace perpetual agile business ecosystem incubation and adaptation to increase value creation." - Peter Stuer, Spikes

"If you are a software-intensive company about to embark on the journey towards innovation mastery, this book is definitely the best guide you will find. This book is written by researchers and experienced practitioners who have been exploring and mapping the complex innovation landscape for years. This book brings it all together. It is an impressive collaborative effort to which I'm proud to have contributed." - Wim Soens, Director of Innovation, Research and Development at CogniStreamer

"This book should be very popular as a reference for project managers and technology officers who want something more than an ad hoc approach to software innovation. [...] This book is very well organized and edited. [...] The feel of the text is much like a well-written software engineering document; its many figures help readers visualize the concepts. [...] This volume is an important contribution to the literature on software innovation." - M. G. Murphy, ACM Computing Reviews, March 2012