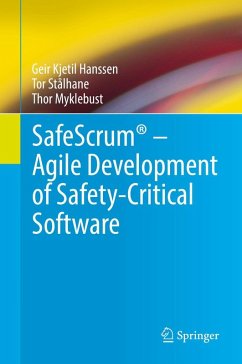 Andere Kunden interessierten sich
auch
für


The book provides an overview of agile software development and how it can be linked to safety and relevant safety standards. SafeScrum® is described in detail as a useful approach for reaping the benefits of agile methods, and is intended as a set of ideas and a basis for adaptation in industry projects. The book covers roles, processes and practices, and documentation. It also includes tips on how standard software process tools can be employed. Lastly, some insights into relevant research in this new and emerging field are provided, and selected real-world examples are presented.

The ideas and descriptions in this book are based on collaboration with the industry, in the form of discussions with assessment organizations, general discussions within the research fields of safety and software, and last but not least, the authors' own experiences and ideas. It was mainly written for practitioners in industry who know a great deal about how to produce safety-critical software but less about agile development in general and Scrum in particular.


Produktdetails
Artikelnr. des Verlages: 978-3-319-99333-1
1st ed. 2018
Erscheinungstermin: November 2018
Englisch
Abmessung: 241mm x 160mm x 19mm
Gewicht: 561g
ISBN-13: 9783319993331
ISBN-10: 331999333X
Artikelnr.: 53190445
Preface.- Acknowledgements.- Glossary.- 1 Why you should read this book.- 2 What is agile software development - a short intro.- 3 What is safety-critical software.- 4 Placing agile in a safety context.- 5 Standards and certification.- 6 The SafeScrum process.- 7 SafeScrum activities.- 8 SafeScrum additional elements.- 9 Documentation and proof-of-compliance.- Annexes A-B-C-D The SafeScrum handbook.