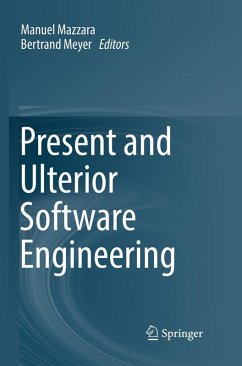 Andere Kunden interessierten sich
auch
für


The papers are edited and extended versions of the presentations at the PAUSE symposium, which marked the completion of 14 years of work at the Chair of Software Engineering at ETH Zurich. In this inspiring context, some of the greatest minds in the field extensively discussed the past, present and future of software engineering.

It guides readers on a voyage of discovery through the discipline of software engineering today, offering unique food for thought for researchers and professionals, and inspiring future research and development.
Produktdetails
Verlag: Springer / Springer, Berlin
Artikelnr. des Verlages: 978-3-319-88429-5
Softcover reprint of the original 1st ed. 2017
Seitenzahl: 236
Erscheinungstermin: 25. August 2018
Englisch
Abmessung: 235mm x 155mm x 12mm
Gewicht: 367g
ISBN-13: 9783319884295
ISBN-10: 3319884298
Artikelnr.: 55128263
Engineering by Software: System Behaviours as Components.- What is a Procedure?.- The Evolution and Ecosystem of the Unified Modeling Language.- A Theory of Networking and its contributions to Software Engineering.- On Language Interfaces.- Moldable Tools for Object-oriented Development.- The Changing Face of Model-Driven Engineering.- Borealis Bounded Model Checker: the Coming of Age Story.- How to make visual modeling more attractive to software developers.- Intrinsic Redundancy for Reliability and Beyond.- Sound Simulation and Co-simulation of Mobile and Autonomous Robots.- Microservices: yesterday, today, and tomorrow.- Microservices: A Language-based Approach.