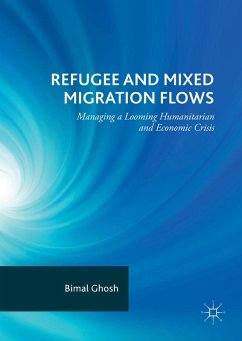 Produktdetails
Artikelnr. des Verlages: .978-3-319-75273-0, 978-3-319-75273-0
1st ed. 2018
Erscheinungstermin: 2. Oktober 2018
Englisch
Abmessung: 220mm x 156mm x 23mm
Gewicht: 492g
ISBN-13: 9783319752730
ISBN-10: 3319752731
Artikelnr.: 50555332
1: Introduction: The Crisis in the European Union in a global context.- 2. European refugee and migration crisis.- 3. The European Union's Response.- 4. The EU's Agonies.- 5. The Way Forward.- 6. Asylum-seeking and externalisation of the screening process.- 7. Refugees and asylum-seekers: eroding rights, less friendly welcome.- 8. Economic effects of migration and refugee inflows in Europe.- II: Challenges across Regions - Eastern Europe, Central America and South-East Asia.- 9. Conflicts in Eastern Europe: Exodus from Ukraine and Russia.- 10. Central America: The unresolved migration conundrum.- 11. South-East Asia: Rohingya caught in a deadly human ping-pong between countries- III: The Way forward.- 12. How to manage the global crisis and avoid its recrudescence.