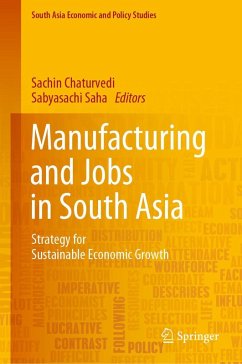 Andere Kunden interessierten sich
auch
für


The book is divided into two main parts. Part A explores cases in selected countries in South Asia in detail, primarily focusing on the opportunities and challenges of job creation in the manufacturing sector, as well as related issues, including constraints on manufacturing-sector growth in South Asia, exports and trade linkages, participation in value chains and the role of investment. In turn, Part B addresses a number of aspects that can promote a deeper understanding of strategies for industrialization and employment creation in the South Asian context, including regional cooperation, skill development, and industrial competitiveness. Gathering contributions from some of the region's top minds, this book is of interest to scholars, researchers, policymakers and industry analysts alike.


Produktdetails
South Asia Economic and Policy Studies
Artikelnr. des Verlages: 978-981-10-8380-8
1st ed. 2019
Seitenzahl: 256
Erscheinungstermin: 20. August 2019
Englisch
Abmessung: 241mm x 160mm x 19mm
Gewicht: 505g
ISBN-13: 9789811083808
ISBN-10: 9811083800
Artikelnr.: 50622426
Introduction.- PART A: Country Case Studies.- 1. India - Prof S K Mohanty and Dr Sabyasachi Saha.- 2. Nepal - Dr Dilli Raj Khanal.- 3. Bangladesh - Dr Khondakar Moazzem.- 4. Pakistan - Dr Abid Suleri.- 5. Sri Lanka - Dr Saman Kelegama and Mr Vishvanathan Subramaniam.- PART B: Related Issues of Importance in South Asia.- 6. Economic Growth and Employment Creation - Dr Ajit M Ghose.- 7. Regional Cooperation in Trade and Investment - Prof Deepak Nayyar.- 8. Demography, Skills and Employment Challenges - Prof Alakh N Sharma.- 9. Industrial Competitiveness and Sustainability: Role of S&T - Prof Lakhwinder Singh Gill.- Conclusion.