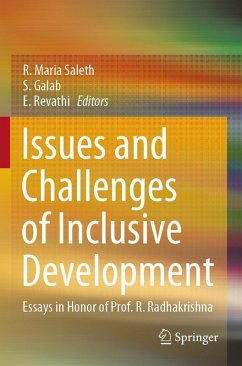 The book highlights several positive developments displayed by the Indian economy in recent years, including the current growth rate of about 7 percent, which is among the highest rates around the globe. At the same time, it draws attention to the fact that while there is every reason to feel proud of these achievements, we cannot ignore the strains and brewing distress, especially in rural areas, or the concerns in environmental and social sectors, including health and education, relating to sociological divisions and disturbances, water and air pollution, and ecosystem and biodiversity losses. Important and relevant from both academic and policy perspectives, the book includes essays from some of the most eminent economists and social scientists in the South Asian region, providing vital takeaways for researchers and NGOs, as well as corporate sector and government decision-makers.

Produktdetails
Artikelnr. des Verlages: 978-981-15-2231-4
1st ed. 2020
Seitenzahl: 309
Erscheinungstermin: 3. Juli 2021
Englisch
Abmessung: 235mm x 155mm x 17mm
Gewicht: 510g
ISBN-13: 9789811522314
ISBN-10: 9811522316
Artikelnr.: 61988637
Inclusive Development: Overview and Synthesis.- Seventy Years of Indian Economy: Growth and Challenges.- Economic Reform Policies and Inclusive Development.- Challenges in Achieving Inclusive and Sustainable Growth in India.- The Future of Inclusive Growth in India.- Managing Public Grain Reserves.- Understanding Food Policy Process in India: An Application to Food Security Act of 2013.- Globalisation and the Structure of the Manufacturing Sector in India.- Towards a New Industrial Policy in India.- Some Public Health Issues in India.- Is Globalisation Inclusive in Health outcomes? Experience of African Countries.- Inclusive Poverty Index without the Poverty Line in the Tradition of Engel.- Two Themes in Poverty and Inequality in India are Just Finding What We Measure instead of Measuring What We Find.- Have the Emerging Developing Economies been enjoying the Inclusive Global Growth in the Export of Modern Services?.- Global Economic Crisis 2008: A Contemporary Reappraisal with an Ethical Perspective.