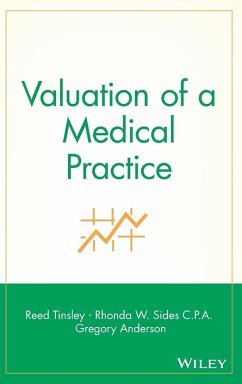 Andere Kunden interessierten sich
auch
für

* The strength of the practice's income stream and what it producesfor the owner(s) is what creates true value.
* The key to a successful valuation is deciding whether or not thepractice's future income stream will mirror its present incomestream.

Along with case examples, sample valuation letters, and checklistsfor gathering data, as well as an exhaustive appendix and glossaryof terms, Valuation of a Medical Practice has complete details on:
* Regulatory issues--Medicare fraud and abuse, privatebenefit/private inurement, the Stark Law.
* Special issues--gross revenues, referral patterns, payer mix,practice efficiencies and transition, productivity.
* Getting started--engagement preplanning and planning, requestingpertinent data.
* On-site inspection and owner interview--fixed assets, personnel,accounting system, supply inventory, marketing, physician andmanagement issues.
* Completing the process--reporting, reviews, reconciling valuationmethods, applying premiums and discounts, obtaining clientrepresentations.

Straightforward, accessible, and exhaustive, this is an importantresource for anyone involved in the valuation of a medicalpractice. When it comes to valuing a medical practice, the partiesinvolved often disagree on how it should be best assessed. Writtenby leading authorities in the field, this comprehensive resourceclears up any confusion by examining and explaining the key issuesinvolved in the valuation process, as well as common pitfalls andmistakes that should be avoided. Packed with sample valuationengagement letters, checklists for gathering data, and helpful casestudies, Valuation of a Medical Practice covers all the essentialbases, from regulatory issues and operating costs to capitalizationand fixed assets--in short, everything needed for an accuratevaluation.
Produktdetails
Verlag: John Wiley & Sons
Seitenzahl: 292
Erscheinungstermin: 14. April 1999
Englisch
Abmessung: 235mm x 157mm x 21mm
Gewicht: 604g
ISBN-13: 9780471299653
ISBN-10: 0471299650
Artikelnr.: 22122170
Introduction 1

Chapter 1 Regulatory Issues and the Valuation Process 17

Chapter 2 Special Issues Pertaining to the Valuation Process 23

Chapter 3 Beginning the Valuation Process 57

Chapter 4 The Capitalization Rate 87

Chapter 5 Valuation Methods 105

Chapter 6 On-Site Inspection/Owner Interview 145

Chapter 7 Completing the Valuation Process 165

Chapter 8 Sample Reports 189

Appendices 239

Glossary 269

Index 273