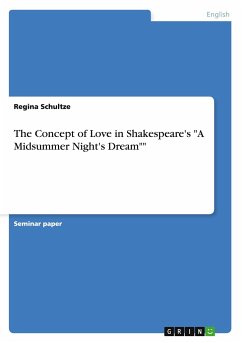 Because this paper will deal with one of Shakespeare's comedies, it is necessary to clarify the term "comedy". In Shakespeare's century, a comedy was everything that was not a tragedy or a historical play - so the term was as neutral as our German 'Schauspiel' is. The intended effect of a comedy was to "frame your mind to mirth and merriment, which bars a thousand harms and lengthens life" , so to evoke laughter and entertainment with a therapeutic intention. In addition to that, comedies had a didactic function: they should show general mistakes like thoughtlessness, quarrelsomeness and meanness in the form of exaggeration.
The main theme of the Shakespearean comedy is love. This paper will deal with "A Midsummer Night's Dream" (written in 1595 or 1596) with a special attention to the play's couples. Their state of relationship and the language the lovers use will be in the foreground. Does it differ from normal language use? If so, do the couples all speak in the same way? Does the language differ from couple to couple, in dependency of their quality of relationship?
Firstly, it will be explained how the Elizabethan concept of love works. Secondly, it is demonstrated how a crush is revealed in terms of language and how a lover's language develops in Shakespeare's play. To conclude, the film version of Michael Hoffmann from 1999 will be looked at with special regards to a comparison of play and film.
Produktdetails
Akademische Schriftenreihe V156021
Verlag: GRIN Verlag
2. Aufl.
Seitenzahl: 16
Erscheinungstermin: 14. September 2010
Englisch
Abmessung: 210mm x 148mm x 1mm
Gewicht: 40g
ISBN-13: 9783640689279
ISBN-10: 3640689275
Artikelnr.: 31793793