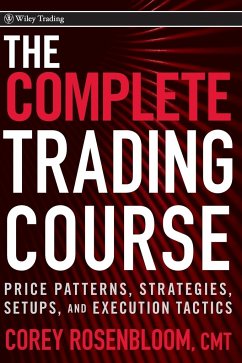 Andere Kunden interessierten sich
auch
für
Produktdetails
Seitenzahl: 312
Erscheinungstermin: 20. Dezember 2010
Englisch
Abmessung: 259mm x 184mm x 32mm
Gewicht: 720g
ISBN-13: 9780470594599
ISBN-10: 0470594594
Artikelnr.: 31575798
Preface. Acknowledgments. PART I Foundational Principles. CHAPTER 1 Supremacy of the Trend. What is a Trend? Methods for Defining Trends. Pinpointing the Trend Reversal in 2009. CHAPTER 2 Momentum's Leading Edge. The Science of Momentum. Momentum in the Stock Market. Gaps Reveal Momentum. The Momentum Indicator. The Rate of Change Indicator. The 3/10 MACD Oscillator. Where Momentum Is Strongest. CHAPTER 3 Price Alternation Principle. Defining the Principle. Price Contraction Phase. Price Expansion Phase. Viewing the Market as Buyers and Sellers. Feedback Loops. Choosing the Right Indicators. PART II Strategies and Tools. CHAPTER 4 Candlestick Charting. Benefits of Using Candlestick Charts. Construction of Candlestick Charts. Basic Terms Used to Describe Candlesticks. Common Signals. Three Trading Scenarios. A Little Knowledge Goes a Long Way. CHAPTER 5 Examining Price Patterns. What Are Price Patterns? Introduction to the Most Popular Patterns. Head and Shoulders. Inverse Head and Shoulders. Bull Flag. Triangles. Using Price Patterns in the Real World. CHAPTER 6 Fibonacci Tools. What is Fibonacci in Trading? Fibonacci Retracements. How to Identify Fibonacci Retracement Confluence Zones. The Multiple Uses of Fibonacci Tools. CHAPTER 7 Following the Life Cycle of a Price Move. Three Phases of a Large
scale Price Move. Visualizing the Stages through Charts. Ralph Elliott's Wave Theory. The Three Rules of Elliott Wave. Elliott Waves Example: Research in Motion. Final Tips for Applying the Life Cycle in Real Time. PART III Execution and Trade Set
Ups. CHAPTER 8 Edge, Expectancy, and Execution. All about Edge. Edging Out Your Expectancy. Trade Execution Tactics. CHAPTER 9 Four Basic Trade Setups. Common Components of Every Trade. How to Classify Trade Set
ups. Mean Reversion Strategies. Mean Departure Strategies. Where Trades Fit in the Life Cycle. Trading Confidently. CHAPTER 10 Specific Trade Setups for Today's Markets. The Cradle Trade. The Impulse Buy and Impulse Sell Trade. Using Multiple Timeframes to Enter an Impulse Buy Trade. Concluding Thoughts. About the Author. Bibliography. Index.