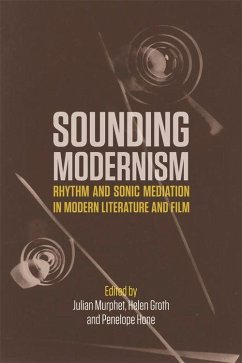 Andere Kunden interessierten sich
auch
für
Produktdetails
Verlag: EDINBURGH UNIV PR
Seitenzahl: 264
Erscheinungstermin: 22. März 2017
Englisch
Abmessung: 236mm x 157mm x 20mm
Gewicht: 522g
ISBN-13: 9781474416368
ISBN-10: 1474416365
Artikelnr.: 47883380
1. Introduction: Sounding Modernism 1890-1950; Part I: Writing Modern Sounds; 2. On Not Listening To Modernism
Julian Murphet; 3. Advocating Auricularisation: Virginia Woolf's 'In The Orchard'
Tom Vandevelde; Part II: Mediated Voices; 4. Bottled Bands: Automatic Music and American Media Publics
Lisa Gitelman; 5. How to Listen to Joyce: Gramophones
Voice and the Limits of Mediation
Helen Groth; 6. Sounding Region
Writing Accent: A. G. Street and the BBC
Debra Rae Cohen; 7. Partial to Opera: Sounding Willa Cather's Empty Rooms
John Plotz; 8. Elliptical Sound: Audibility and the Space of Reading
Julie Beth Napolin; Part III: Difficult Voices; 9. Harsh Sounds: George Gissing's Penetrating Literary Voice
Penelope Hone; 10. Body and Soul: Modernism
Metaphysics
Rhyme
Sean Pryor; 11. Listening to the Late Cantos
Kristin Grogan; Part IV: Modern Rhythm: Writing
Sound
Cinema; 12. The Rhythms of Character in Katherine Mansfield's 'Miss Brill'
Helen Rydstrand; 13. The Rhythm of the Rails: Sound and Locomotion
Laura Marcus; 14. Two-step
Nerve-tap
Tanglefoot: Tapdance Typologies in Cinema
Steven Connor; Bibliography.