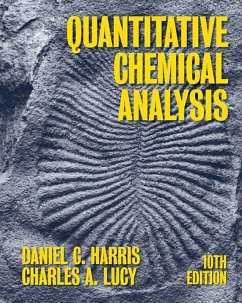 Andere Kunden interessierten sich
auch
für


The 10th edition of Quantitative Chemical Analysis continues to set the standard for learning analytical chemistry with distinguished writing, the most up-to-date content, and now the acclaimed Achieve program, supporting exceptional problem-solving practice. New author Charles Lucy joins Dan Harris, infusing additional subject expertise and classroom experience into the 10th edition.

Quantitative Chemical Analysis is also now supported by Achieve, Macmillan's new online learning platform. Achieve is the culmination of years of development work put toward creating the most powerful online learning tool for chemistry students. Achieve includes an interactive e-Book as well as our renowned assessments. Students will be able to focus their study with adaptive quizzing and gain a better understanding of what is happening at the atomic or molecular level through instrumentation technique videos.

Produktdetails
Artikelnr. des Verlages: 978-1-319-32450-6
10. Aufl.
Erscheinungstermin: 9. März 2020
Englisch
Abmessung: 284mm x 241mm x 40mm
Gewicht: 2361g
ISBN-13: 9781319324506
ISBN-10: 1319324509
Artikelnr.: 58323779
Preface: The Analytical Process.- Chapter 1: Chemical Measurements.- Chapter 2: Tools of the Trade.- Chapter 3: Experimental Error.- Chapter 4: Statistics.- Chapter 5: Quality Assurance and Calibration Methods.- Chapter 6: Chemical Equilibrium.- Chapter 7: Let the Titrations Begin.- Chapter 8: Activity and the Systematic Treatment of Equilibrium.- Chapter 9: Monoprotic Acid-Base Equilibria.- Chapter 10: Polyprotic Acid-Base Equilibria.- Chapter 11: Acid-Base Titrations.- Chapter 12: EDTA Titrations.- Chapter 13: Advanced Topics in Equilibrium.- Chapter 14: Fundamentals of Electrochemistry.- Chapter 15: Electrodes and Potentiometry.- Chapter 16: Redox Titrations.- Chapter 17: Electroanalytical Techniques.- Chapter 18: Fundamentals of Spectrophotometry.- Chapter 19: Applications of Spectrophotometry.- Chapter 20: Spectrophotometers.- Chapter 21: Atomic Spectroscopy.- Chapter 22: Mass Spectrometry.- Chapter 23: Introduction to Analytical Separations.- Chapter 24: Gas Chromatography.- Chapter 25: High-Performance Liquid Chromatography.- Chapter 26: Chromatographic Methods and Capillary Electrophoresis.- Chapter 27: Gravimetric and Combustion AnalysisGlossary.- Index.