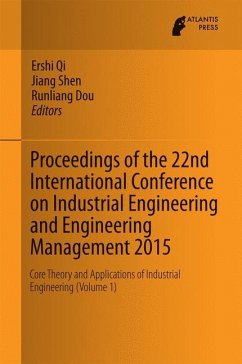 Produktdetails
Artikelnr. des Verlages: 978-94-6239-179-6
1st ed. 2016
Seitenzahl: 964
Erscheinungstermin: 30. Januar 2016
Englisch
Abmessung: 241mm x 160mm x 57mm
ISBN-13: 9789462391796
ISBN-10: 9462391793
Artikelnr.: 44168706
Modeling and Optimization of Functional Response Based on Kriging Model.- Evaluation of Auto Parts Industry Cluster in Jiangxi Province.- ReliefF Based Forward Selection Algorithm to Identify CTQs for Complex Products.- The Research on Cost Management of steel-plastic composite pipe enterprise based on Activity-Based Costing.- The Operations and Strategy for Container Yard Operators in Xiamen Port.- The Way of the Ease Traffic Congestion in Commercial Center of Beijing -The Analysis and Research of Level Analyses And Fuzzy Evaluation in Sanlitun Street.- Hierarchical Planning and Control Method for Multiple Product Development Projects.- A Virtual Resequencing Problem in Automobile Paint Shops.- Multi-objective Simulation Optimization Using Stochastic Kriging.- Age-Related Differences In The Acceptance Process Of Mobile Phones: A Closer Look At Social Influences.- Performance of the Zone Control Chart for Detecting Prespecified Quadratic Changes in Linear Profiles.